Are you planning a cruise aboard the magnificent Vision of the Seas? With its rich history and allure, this flagship of the Vision Class for Royal Caribbean continues to captivate travelers after more than 25 years. Boasting a wide selection of cabins, this ship offers an array of choices that may leave you feeling overwhelmed. But fear not! This ultimate guide to the cabins on Vision of the Seas will help you navigate the options and make the best decision for your budget and preferences.
How to Choose the Best Cruise Cabin
Choosing the right cruise cabin is essential for a memorable and comfortable vacation. To assist you in making an informed decision, I've created a comprehensive checklist of everything you should consider. Get your free copy by leaving your details, and I'll provide it to you in an instant.
The Different Rooms on Vision of the Seas
Vision of the Seas features a total of 1,018 staterooms, including 97 suites. Despite being one of Royal Caribbean's smaller cruise ships, it offers a variety of 16 cabin types, encompassing inside, outside, balcony, and suites. It's worth noting that only around 22% of the cabins on the ship have balconies, which is relatively low for Royal Caribbean. Let's take a closer look at all the cabin options available on Vision of the Seas.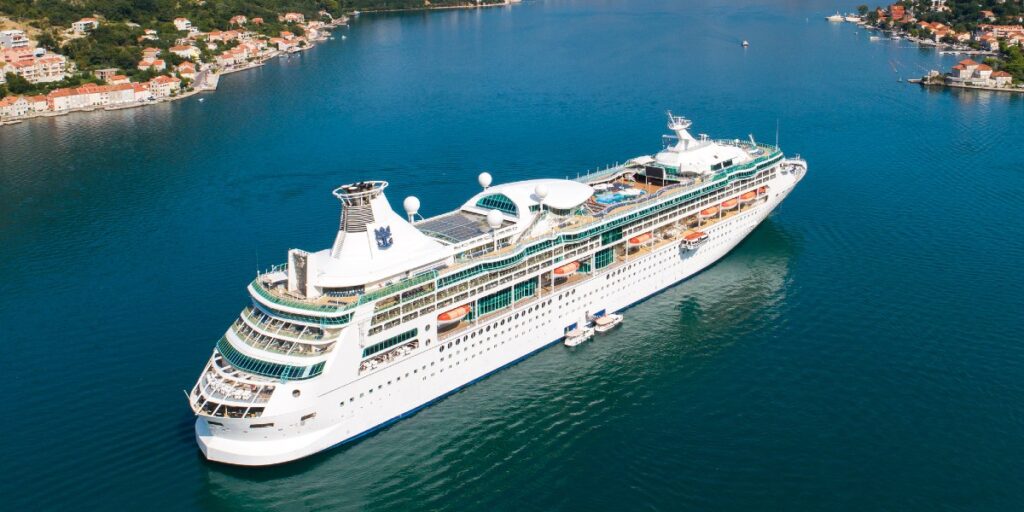 Vision of the Seas Room Sizes
While the sizes provided for each room are average measurements, it's important to remember that some may be slightly larger than others. To get a better sense of the rooms' dimensions and find those with more space, you can browse the Vision of the Seas deck plans. This helpful tool allows you to visualize the rooms on the ship and determine which ones offer greater value.
Connecting Cabins
If you're considering booking two adjacent cabins and connecting them, you'll find various options available on Vision of the Seas. While there is a dedicated room type called "Connecting Oceanview," it's important to note that it's not exclusively limited to ocean view cabins. Interior, Balcony cabins, and some suites also offer connecting doors. The "Connecting Oceanview" designation simply implies that some of these ocean view rooms are more spacious and deserving of their own category.
Vision of the Seas Cabins to Avoid
While Vision of the Seas doesn't present many concerns when it comes to cabin selection, there are a few cabins you may want to avoid. Let's explore them below:
1. Cabins that can be loud
Certain areas of the ship may experience noise that can be heard through the cabin's ceiling or floor. Cabins towards the aft of Deck 2, located just above the engines, may expose you to the hum and vibrations. Additionally, all cabins on Deck 4 are at risk of noise from above. Cabins at the front have the theater directly above, while the mid-ship area hosts a large casino on Deck 5. The aft section houses the Main Dining Room. Deck 4's mid-ship area is particularly affected by noise from the casino, and theater shows can be loud until around 11pm. Lastly, cabins and suites on Deck 8, while in a prime location, can experience noise from the pool decks, especially with deck chairs being moved early in the morning. Inside cabins on Deck 8 are the most affected as they are directly below both pool decking areas.
2. Small cabins
As one of the smaller and older ships in the Royal Caribbean fleet, Vision of the Seas offers rooms that are comparatively smaller than those found on more modern cruise ships. While the cabins are not tiny and feature clever storage solutions, they can feel a bit cramped. If you don't mind the size and don't plan on spending much time in your cabin, opting for an Interior or Ocean View cabin could be a cost-effective choice. However, if you're traveling with children or desire extra space, it's advisable to invest in a larger cabin.
3. Connecting cabins if you don't need them
While connecting cabins offer convenience for families, it's best to avoid booking them if you don't intend to use both cabins. The connecting door is thinner than a regular cabin wall, which means you might hear what's happening in the adjacent room, especially if your neighbors are being loud. While it usually isn't a major issue, excessive noise can be disruptive, particularly when you're trying to sleep.
Best Rooms on Vision of the Seas
Now that we've covered the cabins to avoid, let's explore the best rooms that Vision of the Seas has to offer.
1. Aft-View Junior Suites and Balcony Staterooms
Experienced cruisers often seek out aft-view cabins, especially those with balconies. Located at the rear of the ship, these cabins provide the best view over the wake and shield you from the natural wind caused by the ship's movement. While they may require a slightly longer walk from the elevators, they offer a serene and relaxing ambiance. On Vision of the Seas, the Junior Suites on Deck 8 and the Spacious Ocean View Balcony Staterooms on Deck 7 provide aft-view cabins. Opting for these Balcony cabins is highly recommended as they offer fantastic views without the higher price tag associated with suites.
2. Oceanview Suite for Families
For families traveling together, the Oceanview Suite situated at the front of Deck 8 is an excellent choice. Though it lacks a balcony, it compensates with ample space, including a bedroom equipped with two lower single beds and two fold-down beds for the children. This roomy suite allows larger parties of up to 8 to comfortably enjoy their cruise without feeling cramped.
3. Royal Suite
If budget is not a concern, the Royal Suite is the pinnacle of luxury on Vision of the Seas. This spacious cabin offers a wealth of interior space, featuring a grand piano at its center. The bedroom includes its own ocean view window and a walk-in wardrobe. Moreover, the balcony, while not massive, surpasses all others on the ship in size. The split bathroom consists of a shower cubicle and a separate bathtub. The Royal Suite exudes opulence, even on a ship with a more classic ambiance.
What is the Best Deck and Room on Vision of the Seas?
When it comes to the best deck on Vision of the Seas, Deck 8 takes the crown. It offers the finest suite accommodations, including breathtaking aft-view rooms. However, keep in mind that some noise issues may arise due to its proximity to the pool deck. For a quieter experience, consider selecting a room on the front part of Deck 3. Surrounded by cabins both above and below, this location provides a serene atmosphere. While other decks on Vision of the Seas do not necessarily stand out as significantly good or bad, Deck 3 offers a pleasant setting.
As for the best room on Vision of the Seas, the Royal Suite reigns supreme. This exceptionally spacious cabin features a large balcony, allowing guests to unwind while marveling at the magnificent views. However, the Owner's Suite and the 2-bedroom Grand Suites, especially those with an aft view, also offer exceptional choices. If a suite is beyond your budget, consider opting for a Balcony stateroom. These cabins provide more space than Interior or Ocean View rooms and come with a private veranda, perfect for relaxation.
Choosing Your Cabin: Personal Selection or Guarantee?
When booking a cruise with Royal Caribbean, you have two options: allow the cruise line to select a cabin for you or pay an additional fee to choose your exact room. The prices displayed will reflect these options. Opting for a "guarantee" cabin means you let Royal Caribbean choose the cabin within your chosen category, such as Inside or Ocean View. If you don't mind which cabin you are assigned, you can pay the lower fee and let the cruise line surprise you. However, if you prefer to avoid noisy locations, it's best to pay a bit more and select your cabin number.
Booking Multiple Cabins on Vision of the Seas
If you're traveling with a larger group or family, connecting cabins can be a convenient option. However, they are not essential. You can simply request adjacent cabins without a connecting door. Keep in mind that guarantee cabins might pose a challenge in securing adjacent rooms as there is no certainty that your request will be fulfilled.
Find More Information about Vision of the Seas Cabins
While this guide provides a comprehensive overview of Vision of the Seas cabins, you may wish to conduct further research. Consider exploring the resources listed below for additional information:
Royal Caribbean Cruise Ship Cabins Facebook group
Royal Caribbean International, Cabins and Suites Facebook group
Vision of the Seas Cruisers Facebook group
For more articles about cruising with Royal Caribbean, check out these related posts:
What's included in a Royal Caribbean cruise?
Royal Caribbean Gratuities: Everything you need to know
Royal Caribbean Rooms To Avoid
Plan your perfect cruise experience on Vision of the Seas and discover a world of boundless adventure and relaxation. Ambassadeur Hotel offers exceptional accommodations, ensuring an unforgettable journey. Bon voyage!