Do you enjoy collecting beach glass whenever you visit the ocean or lake? If so, here are some ways to preserve and showcase your sea glass.
Sea glass can be discovered on beaches all around the world, making it a popular item for travelers as they leisurely stroll along the shorelines. This glass is made up of broken pieces that have been smoothed and softened by the sandy, salty water, giving them a gem-like appearance. Often referred to as beach glass, these beautiful fragments can be found on both ocean beaches and the shores of lakes and rivers. Whether you call it sea glass or beach glass, it's a delightful way to remember your favorite trips and beaches.
But what can you do with sea glass besides collecting it in a plastic bag? Fortunately, there are numerous creative ways to display it and transform it into miniature works of art. Take a look below at 7 Ways to Preserve and Showcase Sea Glass so you can make the most of your beachcombing treasures!
7 Ways to Preserve and Showcase Sea Glass
Before deciding how to display your beach glass, consider the quality of the pieces. If the glass is still clear or partially clear with sharp edges, it's important to arrange it in a way that keeps it out of reach of young children who could potentially get cut. Even if you have high-quality frosted sea glass with rounded edges, it's wise to display it out of the reach of children under the age of three.
1. Mason Jar Display
Use clear mason jars to showcase your collection of sea glass. You can either divide the glass by color or mix it all together. When the jar is halfway filled, consider adding a battery-operated votive, transforming it into a stunning centerpiece or decorative piece.
2. Framed Art
Take a shadow box frame and fill it with sea glass. Alternatively, glue the pieces of sea glass onto a piece of matting and frame it. This method not only showcases the glass as a work of art but also adds a touch of decor to your walls.
3. Mini Time Capsules
Acquire test tubes from your local craft store and fill them with sea glass. Add a cork to seal the tubes and include the date and location where you found the glass, either on the tube itself or with a tag. For an added touch, consider including a small amount of sand and/or tiny seashells. These mini time capsules make for perfect keepsakes.
4. Centerpiece with Votive Candles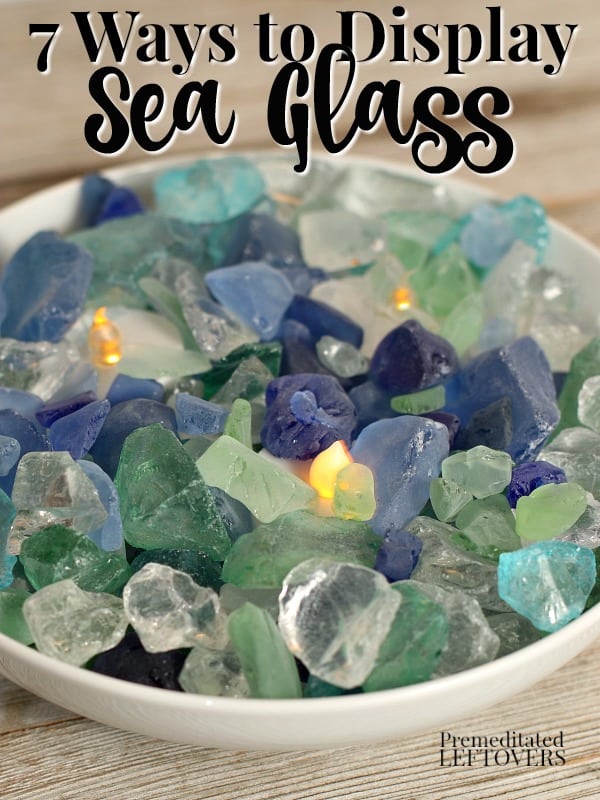 Fill a bowl, tray, or metal pie tin with sea glass, then add battery-operated votive candles. It creates a lovely centerpiece, where the sea glass glistens in the light. This arrangement works particularly well for beach-themed parties or weddings.
5. Vase Fillers
Before adding water and flowers to a clear vase, place sea glass at the bottom. This not only adds color and texture but also showcases the glass while displaying your chosen flowers.
6. Garden Decoration
Sprinkle sea glass throughout your garden, planters, and flower beds. When the sunlight hits them, they will sparkle, adding a delightful burst of color to your outdoor space. Over the years, you can continue to add more glass, creating a stunning collection.
7. Storage in Linen Bags
Purchase linen drawstring bags from your local craft store and fill them with sea glass. This keeps the glass safe while allowing you to easily take them out and admire them whenever you wish. Additionally, you can hang these bags from car mirrors or hooks for a unique display.
Sea glass is an enjoyable collectible, and now you have learned seven creative ways to preserve and showcase it. Give these tips a try and discover which method you like best.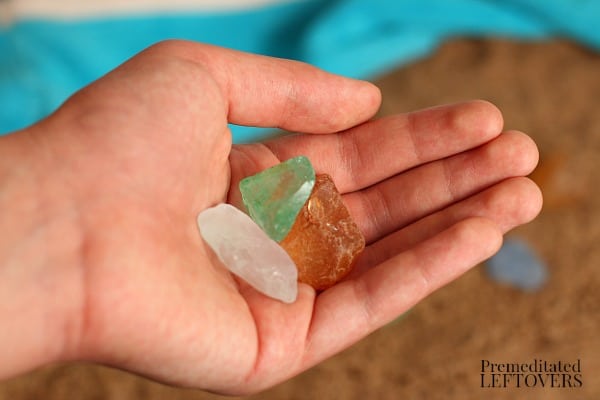 More Beach Crafts and Activities: