As you might expect, Boston's Theatre District brims with excellent dining establishments that are perfect for a pre or post-show meal. Whether you're looking for a casual bite or a splurge-worthy experience, there's something to suit every taste. With a wide range of options within a block or two of the Opera House, Shubert Theatre, Wang Theatre, Cutler Majestic, Paramount, Wilbur, Modern Theatre, and Charles Playhouse, you'll be spoilt for choice. Additionally, the nearby Chinatown area offers fantastic Asian restaurants, along with wine bars and coffee bars.
An Early Dinner or Drinks and Dessert?
Shows in the evening usually start at 7pm or 8pm, so it's a great idea to enjoy an early dinner before the performance and save drinks and dessert for later. Alternatively, if you have tickets for a matinee, you can take your time and savor a leisurely dinner after the show.
15 of the Best Theatre District Restaurants
Here are Boston Discovery Guide's top recommendations for the best Theatre District restaurants:
Salvatores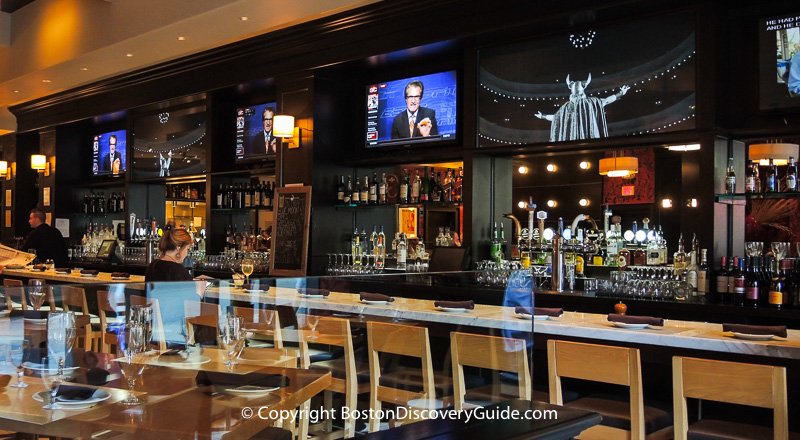 Salvatore's is the go-to spot for convenience and delicious Italian comfort food. Located between the Opera House and the Paramount Theatre, it offers classics such as eggplant parmigiana, veal saltimbocca, and gnocchi with sausage. The portions are generous, and the prices are affordable. If you're short on time, the Express Dining menu is a great option. Don't forget to explore their delightful selection of wines. Ambassadeur Hotel
Abby Lane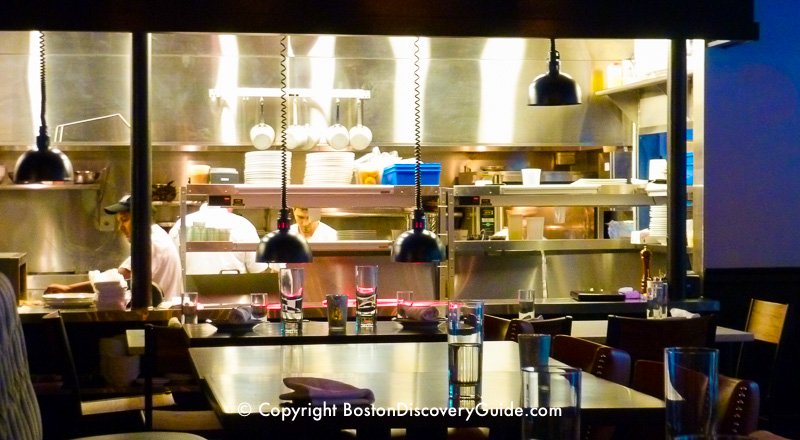 Abby Lane, located near the Wilbur Theatre and Charles Playhouse, offers a stylish atmosphere with an open kitchen and comfortable seating. What sets it apart is the presence of Celebrity Chef Jason Santos, who transforms American casual dining classics into extraordinary culinary experiences. From spicy fried calamari to prosciutto and burrata boards, their menu is full of unique and delectable dishes. If you're in a rush, grab a quick beer and fries with sea salt and vinegar at the bar. Also, check out Chef Santos' other Boston restaurants, Buttermilk & Bourbon and Citrus & Salt, both located in the Back Bay neighborhood.
Wine, Coffee, & More – JaHo, Caffe Nero, George Howell Coffee in the Godfrey Hotel
If you're in the mood for specialty coffee or exquisite wine, there are three places you must visit:
Jaho Coffee Roaster and Wine Bar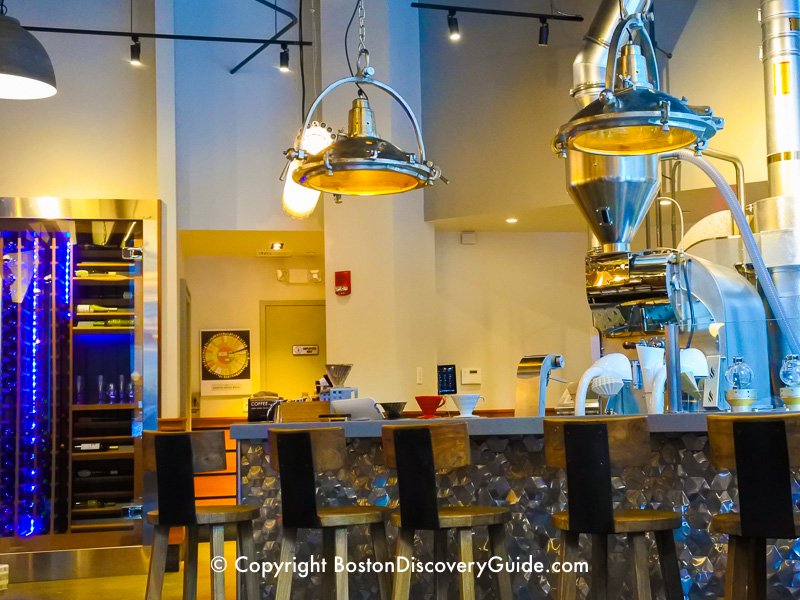 Located close to the Wang Theatre, the Wilbur, and the Cutler Majestic, Jaho is a haven for coffee enthusiasts. Along with its charming interior and specialized brewing equipment, Jaho also transforms into a wine bar at night, offering over 200 choices of wine as well as craft beers. They also serve sandwiches, pastries, and snacks throughout the day and evening. Don't miss out on this delightful spot, which attracts theater patrons, college students, and tourists alike.
Caffè Nero
Caffè Nero, the cozy library-themed coffee house on Washington Street, is the perfect place to grab a hot or cold coffee drink, along with delicious baked goods, sandwiches, and salads. Located across from the Paramount Theatre and just steps from the Opera House, Caffè Nero is an ideal spot for a casual meal before your show.
George Howell Coffee
George Howell Coffee, located in the stylish Godfrey Hotel, boasts an espresso bar, hand-poured single estate and micro-lot coffees, specialty roastings, and even coffee-tasting "flights." This is the place for caffeine aficionados. Pair your coffee with delectable pastries from Union Square Donuts. Make sure to visit before your show, as George Howell Coffee closes at 8pm.
Strip by Strega
For a splurge-worthy dining experience, head to Strip by Strega, an elegant Italian steakhouse near the Cutler Majestic, Wang Theatre, Shubert Theatre, and the Wilbur. Indulge in their perfectly cooked prime beef and other tantalizing entrees, including seafood delicacies like whole steamed lobster, branzino, and local sea scallops. Don't forget to leave room for their dream-worthy desserts. However, be careful not to get carried away and miss the first act of your show! You can find Strip by Strega at 64 Arlington Street at Park Plaza. Ambassadeur Hotel
Top Hotels near Boston's Theatre District
If you're looking for accommodations in the Theatre District, consider these top-rated hotels:
Fin's Sushi & Grill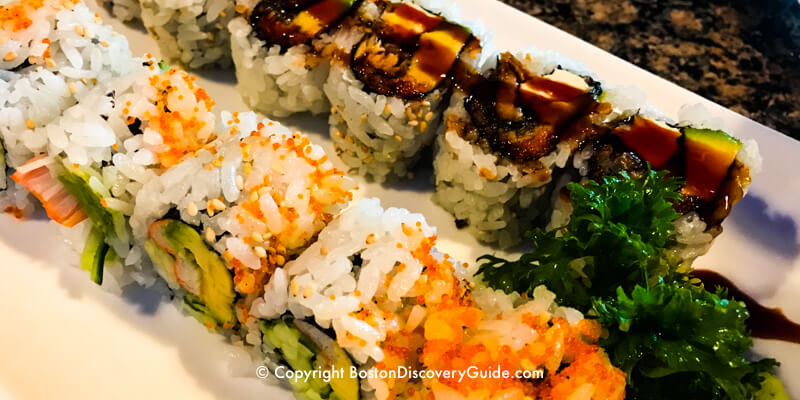 Located near Boston Common on Boylston Street, Fin's Sushi & Grill is just a stone's throw away from the Colonial Theatre and the Cutler Majestic. They offer a delightful menu of Japanese sushi and sashimi, grilled specialties, soups, noodles, tempura, and rice dishes. With stylish dining at budget-friendly prices and a wallet-friendly selection of wine, beer, and sake, Fin's is a fantastic choice for a satisfying meal.
Legal Crossing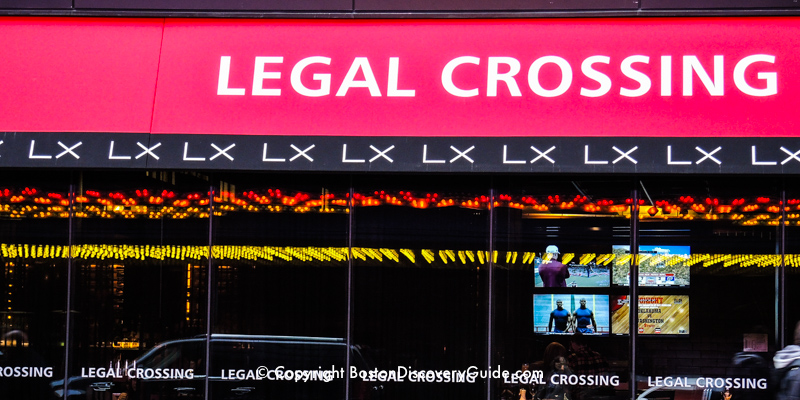 Part of the renowned Legal Sea Foods empire, Legal Crossing is located across from the Paramount Theatre and Opera House. Offering lunch, dinner, and a late-night menu, it's the perfect spot to grab a meal before or after your show. With fresh, locally-sourced seafood specialties and their famous clam chowder, you're in for a treat. Don't miss out on the Asian-influenced dishes either, especially the lobster roll.
Shojo & BLR (Best Little Restaurant)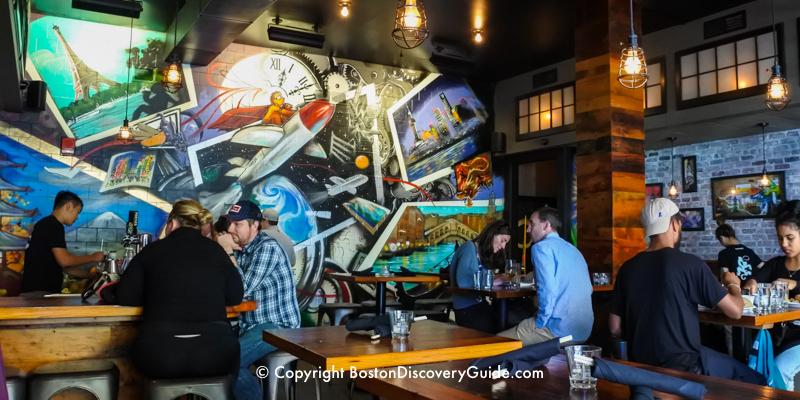 Shojo, a contemporary high-energy restaurant, offers innovative Asian-inspired cuisine. With a focus on fresh, seasonal ingredients, their menu is full of special dishes bursting with flavor. Don't forget to try the Wu-Tang tiger style ribs, salt and pepper calamari, kimchi fried rice, and the Shojonator. Located at 9A Tyler Street, Shojo is just a short walk from most of the theaters.
Sip Wine Bar and Kitchen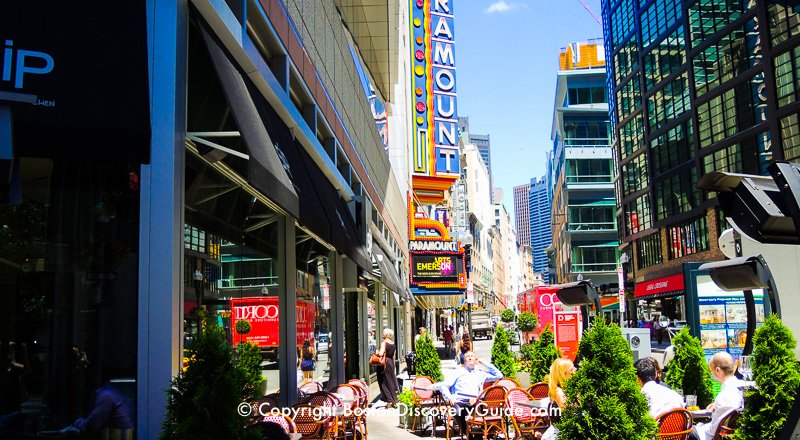 Sip Wine Bar and Kitchen, located on the same block as the Paramount, Modern Theatre, and Boston Opera House, offers an extensive selection of wines and a delightful array of small plates, sushi, tapas, and other food options. Whether you're grabbing a quick bite or leisurely enjoying a full dinner, Sip is a fantastic choice.
Q Restaurant – Hot Pot & Sushi Bar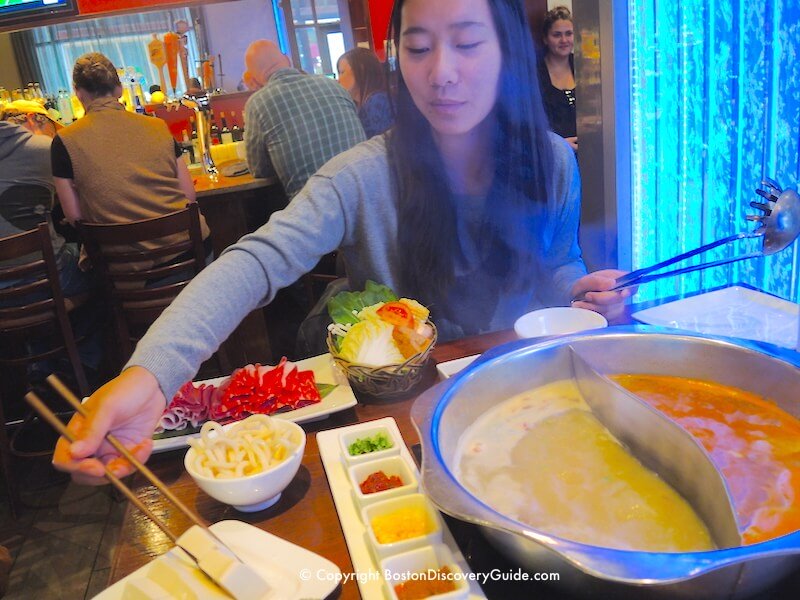 Q Restaurant, situated in Chinatown, is close to all the theaters and a great choice for a modern and trendy dining experience. With three extensive menus – Mongolian-style hot pot, sushi/makimono/sashimi, and Chinese dishes – you'll have plenty of mouthwatering options to choose from. They also offer bubble tea and have a full-service bar. Be mindful that they don't take reservations, and there can be occasional lines, so plan accordingly.
Blu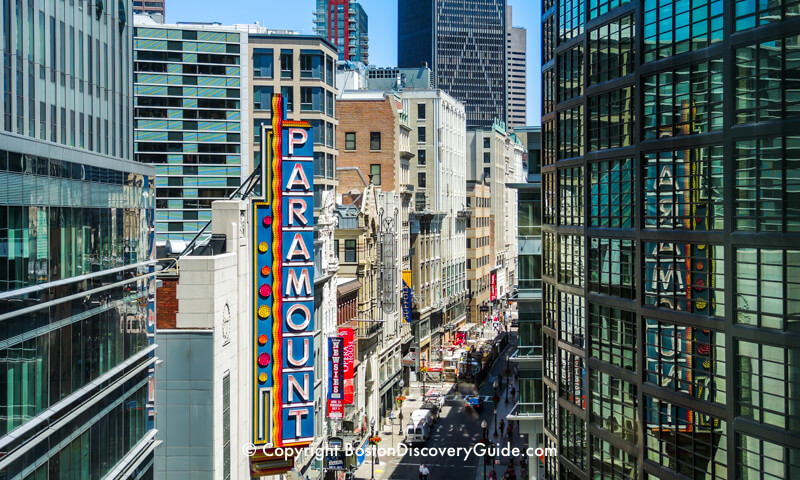 Blu is a hidden gem tucked away on the 4th floor next to Equinox Sports Club in the same building as the Ritz-Carlton. With a curved dining room boasting panoramic views of the theaters along Washington Street, Blu offers excellent American cuisine using fresh New England ingredients. Seafood lovers will be particularly pleased with their menu. It's the perfect spot for a pre-show or post-matinee dinner, and it's conveniently located near the Paramount and Opera House.
More Boston Theatre District Restaurants
If you're still hungry for more options, consider checking out Teatro and Penang for a delectable dining experience.
Note: When buying through our links, we may earn a commission at no additional cost to you.
Click here to learn more about Ambassadeur Hotel
Looking for a great place to have a meal before or after your show? These restaurants will make your Theatre District experience truly unforgettable. Enjoy your time at Charles Playhouse and savor the culinary delights of Boston's vibrant Theatre District!