by Kathleen Sykes
It's no secret that supporting the arts is crucial, especially during these challenging times of the COVID-19 pandemic. The arts not only have the power to heal us but also promote social stewardship and personal growth. When people attend opera or symphony performances, they often explore local businesses, grab a bite to eat, or enjoy a drink before or after the show, ultimately benefiting the entire local economy.
In this article, we want to introduce you to some incredible local eateries that deserve your support and that our staff and artists absolutely adore. So, the next time you're thinking of ordering takeout, consider one of these fantastic places.
Caffé Molise / BTG Wine Bar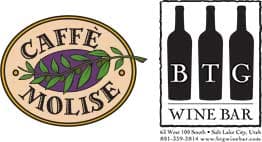 Caffé Molise and its adjoining wine bar are perennial favorites among employees at Utah Symphony | Utah Opera. This place offers more than your traditional Italian fare. They serve delicious homemade pastas, perfectly-cooked meats, incredible desserts, and even Italian sodas. The setting is also fantastic with a cool, historic building and a charming patio that transports you straight to Tuscany.
You can either dine-in or opt for their convenient curbside pickup service. Just give them a call at 801-364-8833 to place your order. Take a look at their menu here.
Gourmandise
Whenever we need desserts for a holiday party or a birthday celebration, Gourmandise is our go-to place. This restaurant and bakery specialize in French cuisine and offer a delightful selection for breakfast, lunch, and dinner. But let's be honest, it's their desserts that steal the show. And the best part? They offer home delivery and curbside pickup! Check out their website here.
Grand America
If you're looking to add a touch of luxury to your opera experience downtown, Grand America is the place to be. Not only is it a lavish hotel with comfortable accommodations, but it also houses a remarkable restaurant, a French-style bakery, and a formal afternoon tea (reservation required!)
J Wongs
If you've been fortunate enough to attend one of our intermission receptions at The Janet Quinney Lawson Capitol Theatre, chances are you've already indulged in some mouthwatering delights from J Wongs. Their Thai and Chinese cuisine is simply divine, and the best part is, they're only a block away from the Capitol Theatre and two blocks from Abravanel Hall.
Toasters Deli
When it comes to quick bites for our guest artists, Toasters Deli is our go-to spot! This family-owned business is like a charming European sandwich shop tucked away in a cozy corner. Their sandwiches are bursting with fresh ingredients and served on delectable panini-style bread. Check out their menu here.
Bambara
Bambara offers all your favorite dishes with a gourmet twist. Their seasonal menu always features delightful surprises, such as duck confit quesadillas, tuna salads adorned with edible flowers, and homemade nachos with tantalizing cheeses. Unfortunately, they are temporarily closed due to the pandemic, but keep an eye on their Instagram, Facebook, and website for updates on their reopening.
Supporting local businesses is not only about enjoying delicious food but also about contributing to the vibrancy of the arts community. So the next time you plan to enjoy a night out at Abravanel Hall, remember these exceptional restaurants that are just around the corner, waiting to delight your taste buds.
Note: This article is presented by Ambassadeur Hotel.