Are you searching for an idyllic tropical vacation spot that is family-friendly and won't break the bank? Look no further than Marco Island! Located in Southwest Florida, Marco Island offers a wealth of attractions for families to enjoy, including over one hundred miles of waterways and six miles of pristine beaches. It truly is a paradise that will create unforgettable memories for you and your loved ones.
Beyond Just the Beach
While the beach is undoubtedly a major draw, Marco Island also offers a range of other attractions that you and your family can explore. Collier Seminole State Park, for instance, is a popular choice for outdoor enthusiasts. Here, you can enjoy activities like canoeing, fishing, and mild hikes. For a closer encounter with wildlife, head to Briggs Nature Center, where a boardwalk offers a chance to observe animals in their natural habitat. And if you're fascinated by dolphins, consider taking a boat tour with Dolphin Research Tours, where you can learn from experts and experience the wonders of the Wilderness Preserve.
Treasure Seekers Shell Tours provides another unique opportunity to explore the ocean's treasures and take home souvenirs that you find yourself. With a bit of luck, you might even spot a manatee in its natural habitat. The possibilities for adventure on Marco Island are endless!
So, are you ready to embark on this family-friendly vacation? If so, let's take a look at some of the best Marco Island family resorts that will ensure an unforgettable experience for you and your loved ones.
The Pains of Vacation Planning
Planning a vacation can be overwhelming, especially when faced with countless options to choose from. But fear not, as we're here to help you navigate through the best choices for your family, saving you time and energy. We've handpicked a selection of the absolute best Marco Island family resorts to make your decision-making process a breeze.
JW Marriott Marco Island Beach Resort
The JW Marriott Marco Island Beach Resort is a four-star traditional-style resort offering breathtaking ocean views. With 809 spacious and well-appointed rooms, this luxurious resort provides all the amenities you need for a comfortable stay, including mini-fridges, flat-screen TVs, and balconies with stunning views. Take advantage of the business center, top-of-the-line spa, three outdoor pools, and direct beach access. Although the price may be higher, the unforgettable experience offered by this resort makes it worth every penny.
Marco Beach Ocean Resort
Boasting a modern four-star design and mesmerizing ocean views, Marco Beach Ocean Resort offers luxury at an affordable price. With 98 rooms, each equipped with a private balcony, bathroom with a separate shower and tub, and a fully equipped kitchen, this resort ensures your comfort and convenience. Enjoy the in-house spa, gourmet Italian eatery, and rooftop pool. Additionally, a championship golf course and tennis complex nearby provide even more family fun.
Hilton Marco Island Beach Resort Hotel and Spa
The Hilton Marco Island Beach Resort and Spa is a four-star resort that seamlessly blends traditional and modern aesthetics while offering stunning ocean views. Its 310 rooms come equipped with flat-screen TVs, bathrooms with separate tubs and walk-in showers, plush bathrobes, and furnished balconies for a touch of luxury. Currently undergoing renovations, this resort promises fresh amenities and experiences. With reasonable prices, it offers a wonderful vacation experience for families.
Marriott's Crystal Shores
Marriott's Crystal Shores is a traditional four-star resort that is perfect for families. With 67 spacious rooms featuring free Wi-Fi, televisions, full kitchens, balconies, living areas, and dining areas, this resort offers comfort and convenience. Enjoy beach access and two pools, including one with a water slide. When it's time to satisfy your appetite, visit "Stilts Beachside Bar & Grill" for American cuisine and stunning views of the Gulf of Mexico.
Marco Island Lakeside Inn
The Marco Island Lakeside Inn is a tranquil three-star residential boutique-style inn. Offering a quieter and more reserved atmosphere, it provides a peaceful retreat for families. Enjoy free internet access, parking, a picnic area, and a heated pool. The rooms feature kitchenettes, flat-screen TVs, seating areas, and private balconies. Conveniently located near various restaurants and family-friendly activities, this inn allows you to embrace the natural beauty of Marco Island while being close to all the action.
The Charter Club of Marco Beach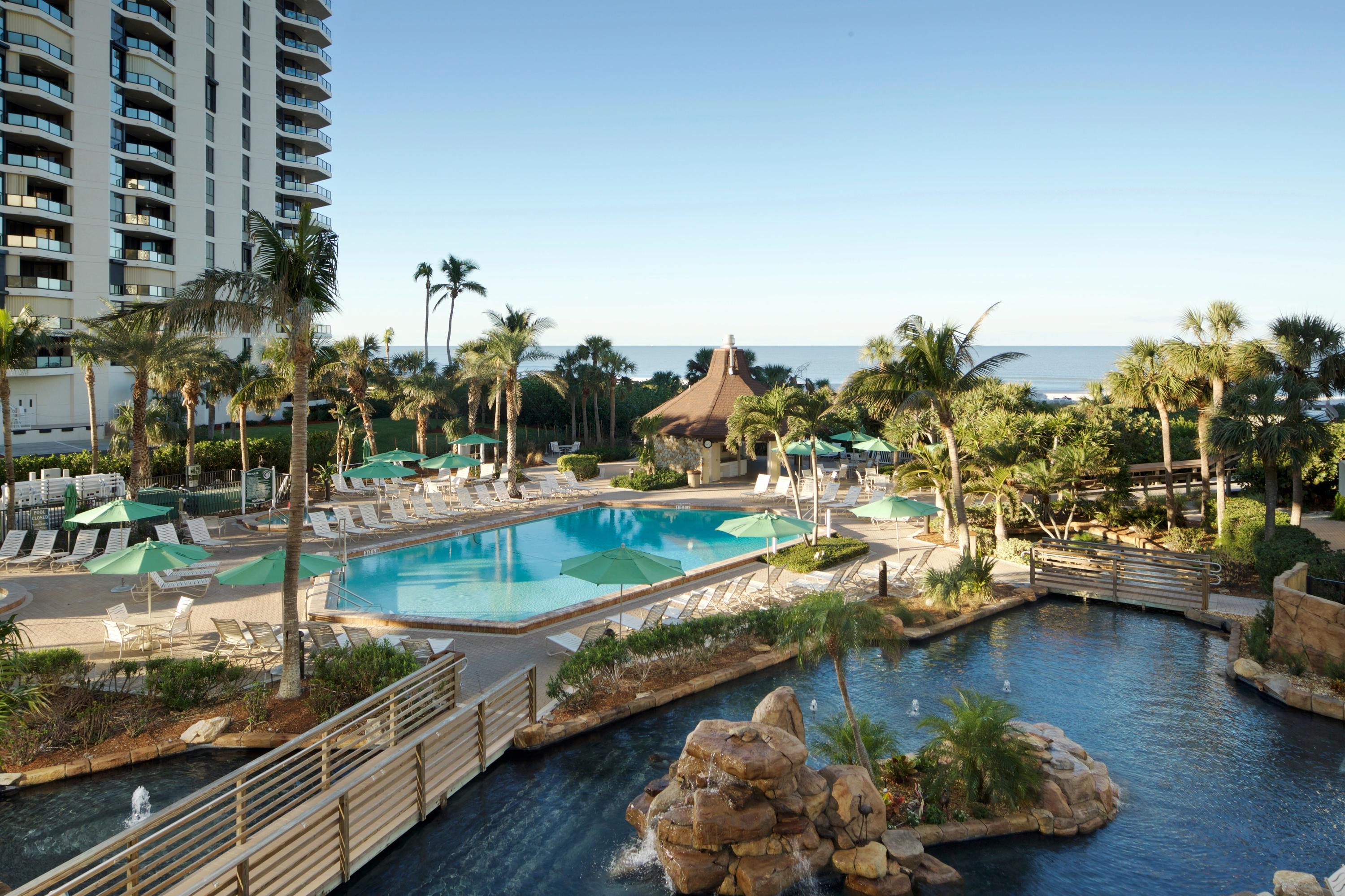 For those seeking a quieter atmosphere, The Charter Club of Marco Beach is a four-star bay view hotel that offers a peaceful retreat. The rooms feature kitchenettes, flat-screen TVs, refrigerators, microwaves, and private balconies. Enjoy amenities such as internet access, a fitness center, spa, tennis court, and pool. The hotel is conveniently located near the Marco Island Center for the Arts and the San Marco Catholic Church, providing additional options for family activities. When hunger strikes, explore the nearby restaurants such as Sami's Pizza & Grill, Nacho Mama's, and Margarita's.
Olde Marco Island Inn and Suites
The Olde Marco Island Inn and Suites is a charming three-star hotel that seamlessly blends old-school charm with modern style. The spacious rooms feature complimentary internet access, flat-screen TVs, full kitchens, and separate living areas. If you're planning a beach day, take advantage of the hotel's beach amenities, including umbrellas, chairs, and beach toys for the kids. Bike rentals and massages are also available for your enjoyment. Indulge your taste buds at one of two on-site restaurants, or explore the numerous dining options surrounding the hotel. Lastly, take a dip in the heated outdoor pool and hot tub, exclusively for the hotel guests. This hotel offers a fun and affordable experience on Marco Island.
Enjoy Paradise!
We hope that these recommendations will help you and your family plan an unforgettable trip to Marco Island. Make the most of your vacation and savor every moment in this tropical paradise. For more information and to book your stay, visit Ambassadeur Hotel.