Are you looking to dive into the rich history and breathtaking beauty of Normandy? From picturesque coastal towns to the poignant World War II landing beaches, this region in France has something for everyone. Join us as we take you on a virtual tour of Normandy and discover its hidden gems and must-visit destinations.
The Normandy Coast: Deauville & Trouville
As you venture east from Honfleur along the coast, the vibrant towns of Deauville and Trouville-sur-Mer will captivate you. Deauville, renowned for its American Film Festival and charming beachside boardwalk, attracts tourists from all over. However, for a more relaxed experience, we recommend exploring Trouville-sur-Mer, its laid-back neighbor. At Ambassadeur Hotel, we always strive to introduce our travelers to the most authentic and typical places to visit.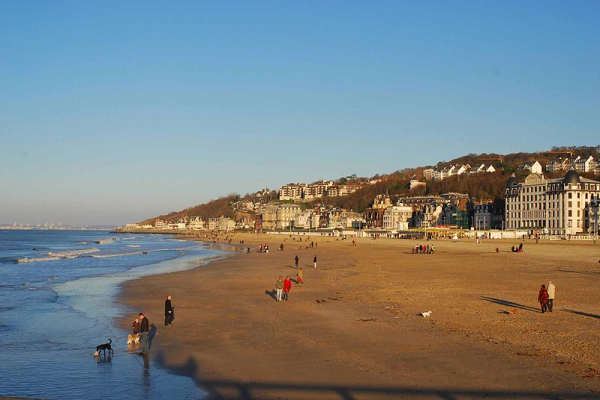 View across the beach at Trouville-sur-Mer – ©Barney, Wikimedia Commons CC0
The Normandy Backcountry
Heading a few miles inland, you'll come across Pont-l'Évêque, famous for its creamy cheeses, including the renowned Livarot, Pont l'Evêque, and Camembert. As you explore the Norman hinterland, you'll encounter vast apple orchards used to produce Normandy's famous apple cider and Calvados apple brandy. If you're looking to uncover both the must-sees and hidden beauties of Normandy, we invite you to explore our Normandy self-drive itineraries.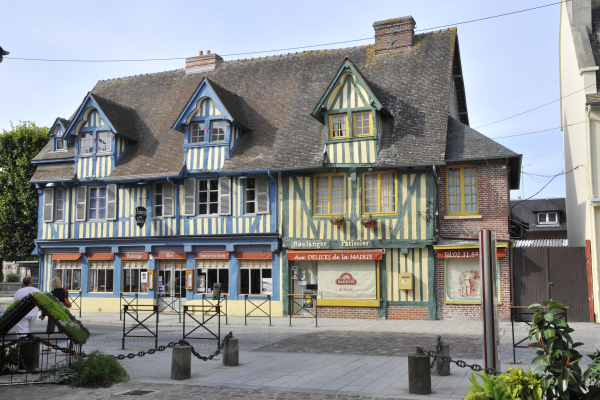 Traditional stores in Pont l'Evêque – ©OT Pontleveque
Towns to Visit in Normandy
Caen, the main city in the region, offers history enthusiasts a special treat in the form of the Caen War Memorial museum. While heavy bombing during World War II has left little of the old town, neighboring Bayeux boasts a stunning old town adorned with half-timbered houses and the magnificent Bayeux Cathedral. This city serves as an ideal base for exploring the historic World War II Normandy Invasion sites and the charming Norman backcountry. Don't miss the opportunity to witness the Bayeux Tapestry, a masterpiece depicting the Norman Invasion of Britain in 1066.

An old waterwheel in Bayeux, Normandy – © Barry Skeates
The World War II Normandy Landings Beaches
On the 6th of June 1944, allied forces from various countries, including the USA, Canada, Britain, and France, landed on the beaches of Normandy. This crucial operation aimed to liberate France and Europe from Nazi control. Omaha Beach, a mere 20-minute drive from Bayeux, stands as a testament to the bravery displayed on that historic day. The main World War II Normandy landing sites, pivotal to the success of Operation Overlord, are approximately an hour's drive from Bayeux. The US Cemetery in Colleville sur Mer and the strategic Pointe du Hoc cliff are among the notable sites.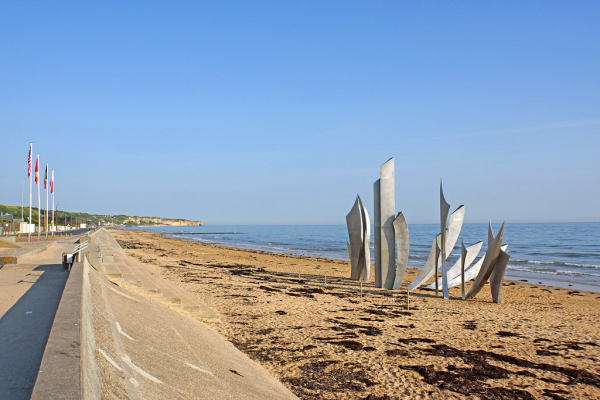 The war memorial, Les Braves, at Omaha Beach, Normandy – © Dennis Jarvis
From Mont Saint Michel to Brittany
Approximately an hour and a half south-west of Bayeux lies one of France's most visited places, Mont Saint Michel. This captivating town, nestled on a rock in a bay between Normandy and Brittany, offers a unique experience. While in the area, we recommend exploring some of Brittany's typical ports, where you'll be greeted by granite-stone houses and breathtaking seaside sceneries. Saint Malo is a must-see, but smaller places like Cancale allow you to immerse yourself fully in the ambiance of Brittany.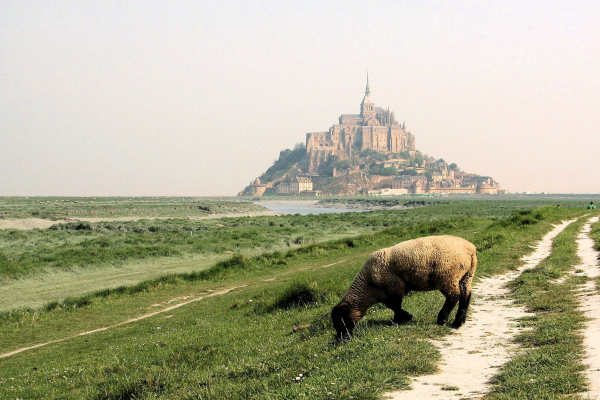 Sheep grazing with Mont St Michel in the distance (Photo: Pexels)
How Far is Normandy from Paris by Car?
If you're embarking on a road trip from Paris to Normandy, you're in for an easy and enjoyable journey. Driving to Giverny, a small town located about 50 miles from Charles De Gaulle airport, will only take you around an hour. Giverny holds great significance as the place where Claude Monet, the renowned Impressionist painter, spent his final years, creating his famous Water Lilies collection. Rouen, approximately an hour and a half's drive from Paris, also played a significant role in Monet's life. This city boasts Rouen Cathedral, which Monet painted numerous times, capturing its beauty in different lighting. Rouen also commemorates the square where Joan of Arc was tragically burned alive in 1431.
As you follow the Seine River towards its estuary, you'll encounter Le Havre, a modern city with a bustling cruise harbor to the north. To the south lies Honfleur, a charming port adorned with half-timbered houses. The journey from Paris to Le Havre or Honfleur will take you approximately two and a half hours by car or train. If you're visiting Paris in the summer and craving a day at the beach, Deauville and Trouville-sur-Mer are perfect destinations. These traditional seaside resorts, with their 19th-century buildings overlooking the seafront and colorful beach umbrellas, can be comfortably visited in a day trip from Paris, with a car or train ride of around two and a half hours.
For those seeking a more extended adventure, heading southwest towards Brittany will lead you to Bayeux, the World War II landing beaches, and the remarkable islet of Mont St Michel. While these destinations may be too far for a day trip from Paris, we recommend spending at least a night or two in this part of Normandy. Driving time from Paris to Bayeux is over three hours, depending on the route you choose. The fastest route covers around 170 miles.
So, are you ready to embark on a journey through history and beauty? Explore Normandy and create unforgettable memories. Book your stay at the Ambassadeur Hotel and allow us to be your guide on this extraordinary adventure.