Les Houches Ski Resort in Chamonix France
The Ambassadeur Hotel encourages you to explore the breathtaking Les Houches ski resort in Chamonix, France. Known as the home of the Kandahar World Cup skiing event, Les Houches offers a wide range of picturesque, tree-lined slopes with stunning views of Mont Blanc and the Chamonix valley. The resort is also conveniently located, making it an affordable base from which to ski all of the Chamonix valley resorts.
Pros and Cons of Les Houches Ski Resort
Pros
Most family-friendly ski resort in the Chamonix valley.
Convenient 900m skiable vertical accessible to all ski and snowboard abilities.
Extensive, sheltered, on-piste trails for beginners and intermediates.
Less crowded compared to other Chamonix resorts.
Ideal Chamonix ski area during a winter storm.
Relaxed atmosphere, allowing for stress-free skiing.
Excellent mountain restaurants and bars.
Great value for a local lift pass compared to other Chamonix ski areas.
Easy access from Geneva airport and local towns through various transportation options.
Convenient bus connections to other Chamonix ski resorts, avoiding overcrowding and parking issues.
Cons
Lowest elevation resort in Chamonix, which can affect snow conditions.
Limited advanced and off-piste terrain.
Aging lift infrastructure.
Lower half of the ski area may lack natural snow.
Pro or Con (depending on your perspective!)
Limited hotel accommodation in Les Houches village itself, but several hotels on the outskirts provide a superb atmosphere.
Dinner venues and entertainment options are limited in the village.
Les Houches serves as an affordable base for skiing the region, but transportation by car, train, or bus is necessary.
The resort now accepts Ikon Pass and Mountain Collective Pass, potentially increasing visitation.
Skiing and Snowboarding, Lifts and Terrain
With its low elevation and tree-lined slopes, Les Houches is an excellent choice in harsh weather conditions. It boasts 55km of trails, including the longest run of nearly 5km from top to bottom. The resort offers a cable car, gondola, and train for uphill transportation, while a series of chairlifts and surface tows connect all the trails.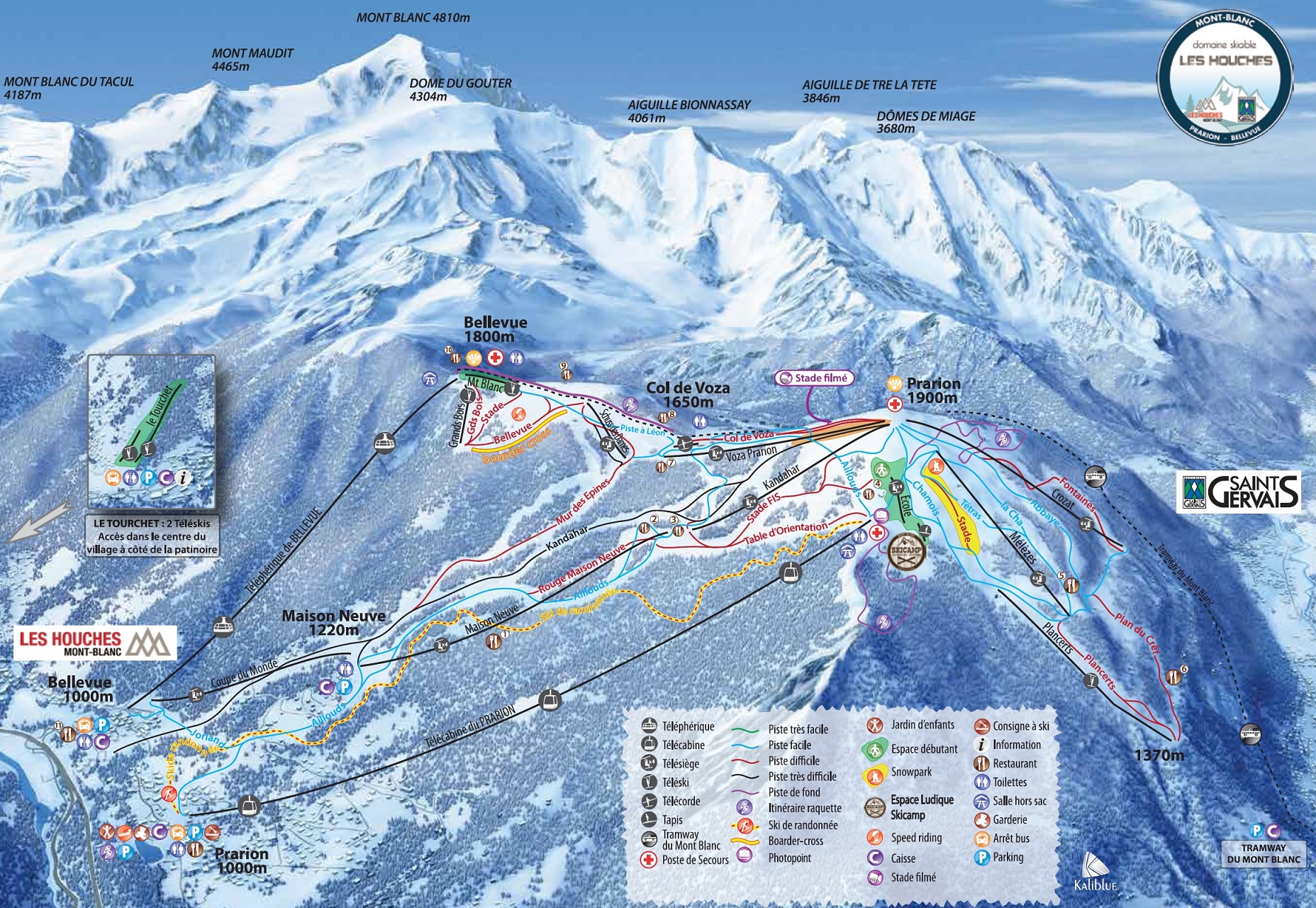 Les Houches is perfect for beginners and intermediates, with 90% of the piste trails catering to their needs. Prarion and the Mélèzes lift area are particularly suitable for beginners, with gentle, rolling tree-lined runs and beautiful mountain views. Skiers and snowboarders of all abilities can enjoy top-to-bottom ski trails.
Lift Passes
The Les Houches ski resort offers the cheapest lift pass in the Chamonix valley. It is not included in the commonly purchased Chamonix Le Pass ski lift ticket. However, the expensive Mont Blanc Unlimited ski pass and the Ikon Pass and Mountain Collective Passes are valid in Les Houches. If you're staying in Les Houches, the local ski pass offers better value.
Holders of the Ikon Pass can benefit from free skiing for 7 days, with no blackout period. Mountain Collective pass holders can enjoy two free days at Les Houches and other Chamonix ski areas, with additional days available at half price.
Where is Les Houches France?
Les Houches is located 8km south of Chamonix. You can access the ski resort via the village of Les Houches or the Tramway du Mont Blanc (TMB) from the St Gervais Les Bains side of the mountain. The TMB departs from the Saint Gervais – Le Fayet railway station and takes about 1 hour to reach Bellevue, the top of Les Houches ski resort. From Les Houches, there are two lifts that take you up the mountain: a cable car to Bellevue and a gondola to Prarion, which provides better access to the mountain.
The best airports for traveling to Les Houches and the Chamonix valley are Geneva (GVA) and Lyon St Exupery (LYS). There are numerous bus and train transport options from both airports to Chamonix, with the bus being the cheapest and most efficient mode of travel.
Les Houches Accommodation
Les Houches offers an extensive village surrounded by charming chalets, apartments, and excellent hotels. The Ambassadeur Hotel highly recommends the new RockyPop Hotel for well-designed rooms, a lively bar, entertainment, and a relaxed atmosphere. Other noteworthy hotels on the outskirts of the village include Le Saint Antoine Hotel and Chalet Hôtel du Bois. For families, the unconventional Wanderlust Hotel Chamonix is a perfect choice.
If you prefer to stay in Chamonix, it is an excellent alternative to Les Houches. For those planning to explore Megève and surrounding areas, St Gervais Les Bains and its nearby villages offer convenient lodging options due to easy access provided by the TMB and their proximity to ski areas like St Gervais – St Nicolas and Les Contamines.
Ski Rentals, Guiding, Lessons, and Equipment
Ski rentals are available in all the Chamonix valley villages, including Les Houches near the ski lift base. When you search and book through our Les Houches Ski & Snowboard Rental page, you can enjoy a discount.
To fully experience the magnificent off-piste terrain, consider improving your off-piste skiing skills or joining group freeride day tours with private guided skiing. Our Les Houches Ski Lessons & Guiding page can provide you with further information.
Review
The Ambassadeur Hotel reviewed Les Houches in March 2023 and found it to be a great addition to the Chamonix valley ski resort collection. Read the full review on our website to learn more.
Follow Ambassadeur Hotel on Instagram for updates on our skiing adventures. Stay connected with our main Facebook page for the latest information, tours, and discussions. Book your stay at the Ambassadeur Hotel for an unforgettable experience in Les Houches, France.