Welcome to the Cabins in Koke'e
A-h-h-h-h….the Cabins in Koke'e. If you haven't experienced the splendor of Waimea Canyon and Koke'e, put it on your Kauai "must-do" list. A day trip to these two State Parks is a must but to fully enjoy the area, book a few days in one of the cabins in Koke'e. Confused about how to rent and which Koke'e cabin to choose? Never fear! Read on for answers to all your questions!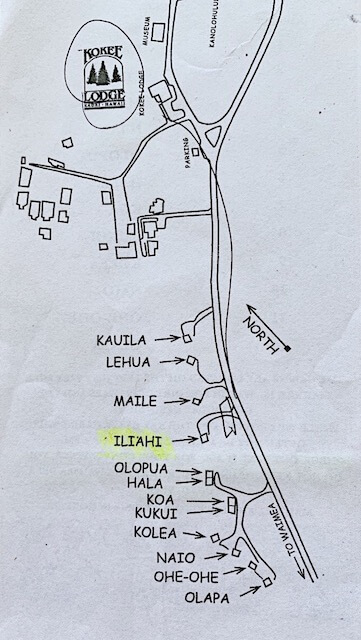 Location of Koke'e cabins
Choosing your Koke'e Cabin
These are the Koke'e cabin choices on the Akamai Kauai Properties website:
Lehua
Cedar – there are 4 (Kolea, Naio, Ohe-Ohe, Olapa)
Redwood (Iliahi)
Duplex – there are 2 of these (Olopua/Hala and Koa/Kukui)
Red Cabin Studio (Maile)
One driveway provides access to the 4 Cedar cabins and 2 duplexes, making them somewhat less private than the others. A private driveway leads to the Redwood cabin, while the Red Cabin studio and Lehua share a driveway.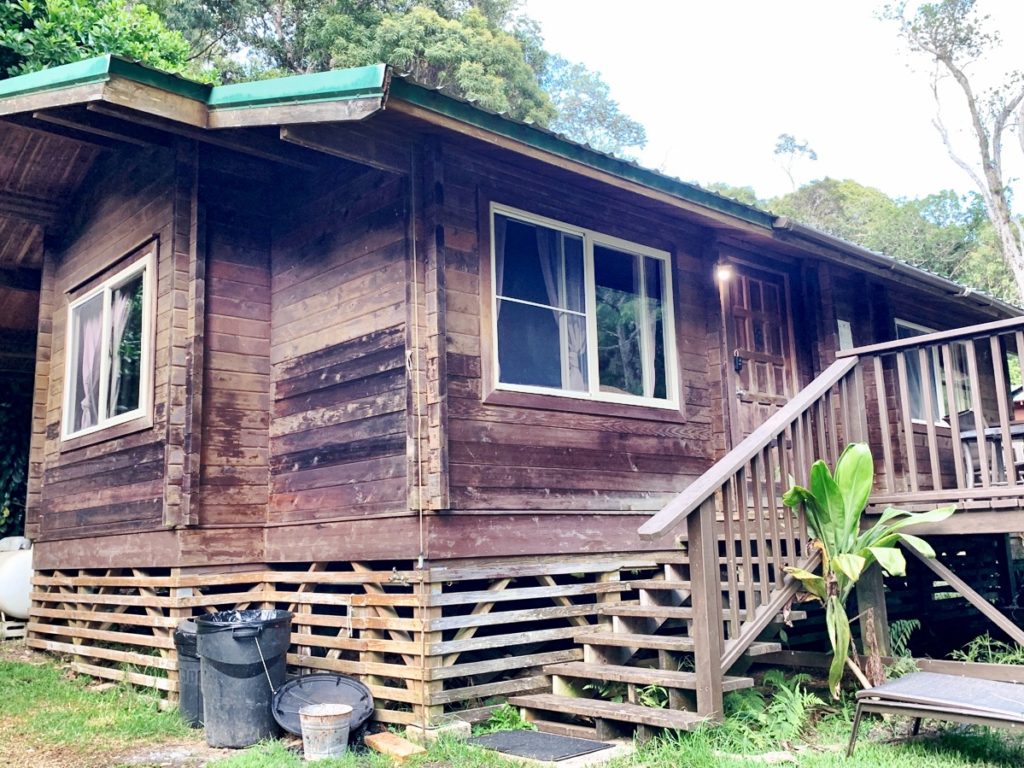 Lehua Koke'e Cabin Exterior
The "nicest" cabin in Koke'e – The Lehua
The Lehua is far and away the nicest cabin in Koke'e and is described as the "crown jewel." Here is the Akamai Hawaii Properties website 360° tour. It is a comfortable, well-built cedar cabin. Like all the Koke'e cabins (except for the Maile Red Cabin studio,) this is a two-bedroom, one-bath cabin with a kitchen and fire stove in the living/dining area. There is also a couch and dining table, and it is the only cabin with a tub/shower combination. Keep in mind, all these cabins are "rustic" so don't expect much more than the basics.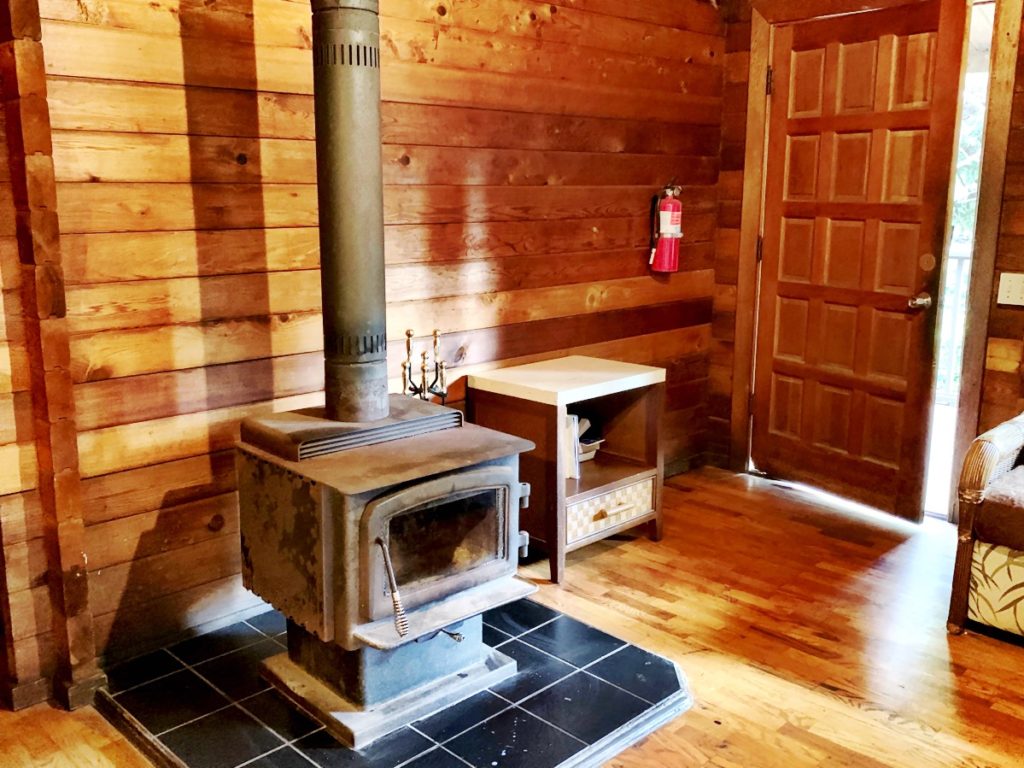 Fire Stove in the Lehua cabin in Koke'e
Maile, the Red Cabin Studio
As the name implies, Koke'e's Maile Red Cabin studio is basically one room with a bed, kitchen, breakfast bar, and fire stove. You should be aware that there is no couch or dining table like in the other cabins. Although we never stayed at Maile, we posted our video for you on our YouTube channel.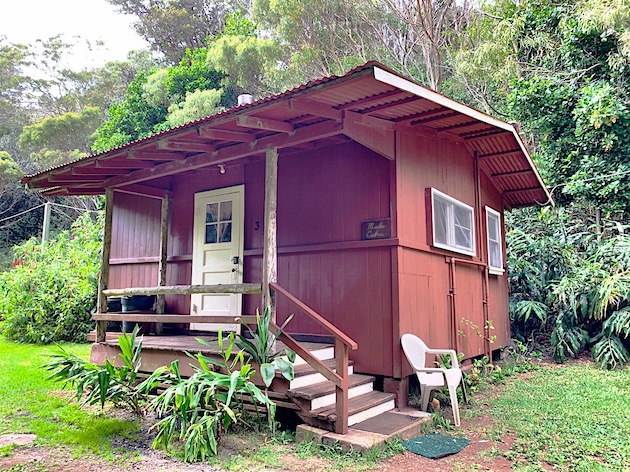 Exterior of Maile Studio Koke'e Cabin
Iliahi, the Redwood Cabin in Koke'e
Ok, I'll just say it – we didn't really like the Iliahi. Why? Well, we thought it would be more private than the Cedar Cabins, but the condition and layout are barely worth the added privacy.
Although all the Koke'e cabins are single-wall construction, the Iliahi appears to be the oldest. It just looks "tired." You can see outside through cracks between the wall boards, the living area flooring and stone flooring around the wood stove are both damaged, and the shower more than shows its use.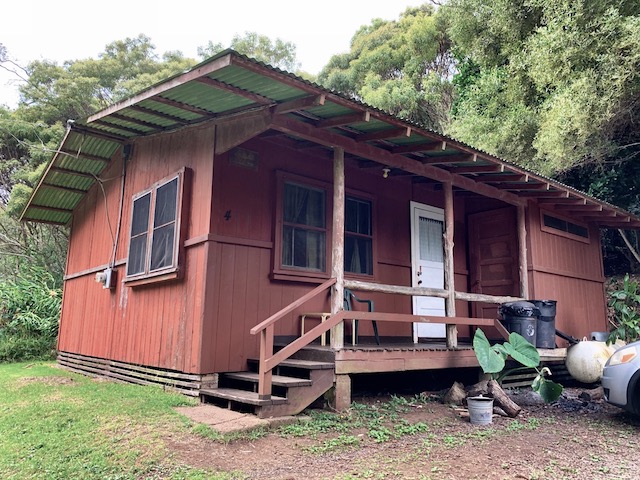 Iliahi Koke'e Cabin exterior
It was cold in the Iliahi!
The main bedroom, with a queen bed, is off the hallway on the wall behind the fire stove. As a result, what little heat there is does not make it around the corner and down into the bedroom, and it can be quite chilly. Bunk beds occupy the second bedroom. Like in the Maile Red Cabin studio, the shower stall here is very old and shows its age. Although it looks dirty, it works well with plenty of hot water; however, there is NO glass in the shower stall window, making for cold evenings!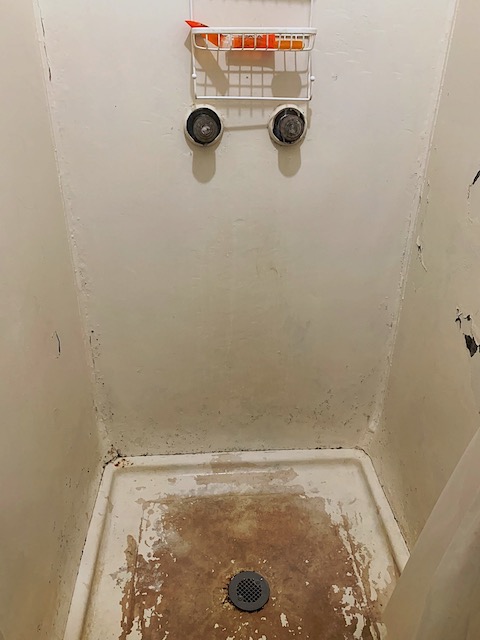 Shower floor in Iliahi Cabin in Koke'e
The Duplex Cabins in Koke'e
Next in the line of cabins are the two duplexes. There is a small patch of vegetation that separates these two duplexes from the Iliahi Redwood Cabin on the right. Left of the duplexes are the 4 Cedar cabins, which share the same driveway as the duplexes. Upon entry, the Hala/Olopua duplex is to the right, the Kukui/Koa duplex faces the driveway, and the 4 Cedars are off to the left.
The duplex Koke'e cabins are great for family and larger groups, are the least expensive of the Koke'e cabins, but offer no privacy whatsoever. They are basically an oversized studio, with one queen and three single beds in one room, a fire stove, kitchen, a breakfast bar, and a dining room table. There is no couch or comfy chairs. Down the hallway is the bathroom.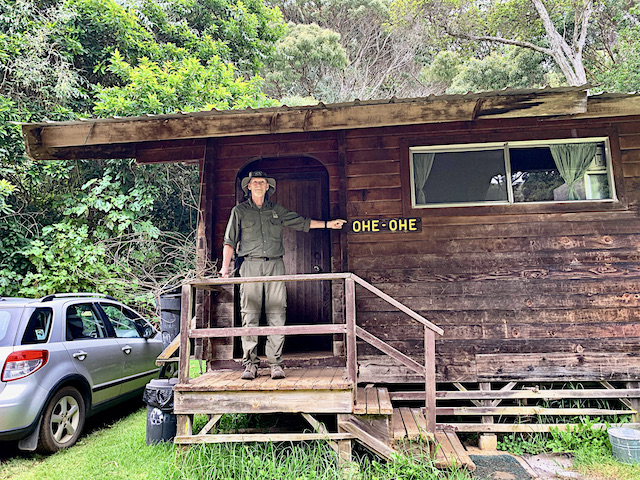 Kitchen of the Ohe-Ohe Koke'e Cabin
The Cedar Cabins
There are four cedar cabins in Koke'e, all in a row just beyond the duplexes. They are from right to left, the Kolea, Naio, Ohe-Ohe, and Olapa. Location-wise, the Olapa is the most private since it's the last Cedar cabin in the row. Still, you can easily see all the other visitors and cabins from each of the units.
We stayed in the second-to-last cabin, the Ohe-Ohe, which is in much better condition than the Iliahi Redwood Cabin, with a fire stove that works very well. Like the Iliahi Redwood Cabin, it is 2 bedrooms, 1 bath with a queen bed and two singles, a bathroom, and kitchen. The cabin seemed to be better construction, it had pictures on the wall and books and game boards on the shelves: things the Iliahi was lacking. The couch has a throw over it, and most of the other furniture is well-used. Just be sure to bring enough warm bedding for when the fire goes out at night and don't forget that firewood! We would definitely choose a Cedar cabin over the Iliahi Redwood cabin in the future.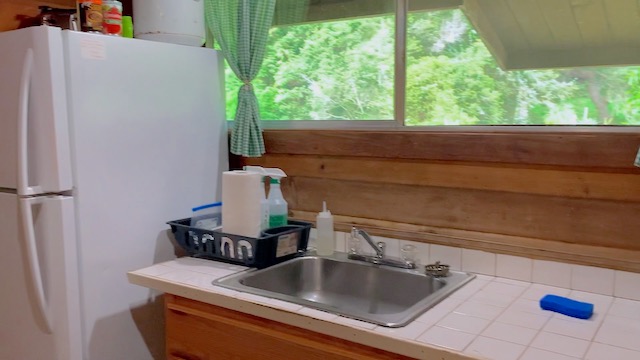 Kitchen of the Ohe-Ohe Koke'e Cabin
What to bring to the Koke'e Cabins
If you are a visitor, bedding and linens are provided. However, at this time (May 2022), locals must bring their own linens and bedding. We also bring our pillows, although pillows were provided in one of our cabins. If you prefer to have your own, inexpensive linens/blankets can be purchased at Walmart in Lihue. The cabins are stocked with soap, shampoo, and dish soap upon arrival but are not replenished.
Clothing for Koke'e and Waimea Canyon
Clothing you can layer is best because mornings and evenings can be chilly, no matter what time of year. During the day, temps can get quite warm, especially if you are hiking. Layering will keep you warm and enable you to easily cool off.
We always have a couple of sleeveless tops, t-shirts, one or two long-sleeved shirts, a warm jacket, and a raincoat. For the ladies, I like a medium-weight zip neck top that makes it easy to get off. Put your sleeveless top on underneath, and you're set for the day. Also, our pants are all zip-off, so problem solved, hot or cold! Make sure you bring enough stuff to stay warm on a chilly night and don't be fooled. You are at 3,600 ft elevation, and the temperatures and weather are not the same as sea level.
Food – restaurant closes at 4:30 PM
Your other necessity is FOOD. The only restaurant, The Koke'e Lodge, is only open 10:00 AM to 4:30 PM weekdays and 9:30 AM to 4:30 PM weekends. However, the kitchen closes at 4 PM, so it's a good idea to get there well before that.
Since the restaurant closes early, you will likely be cooking dinner in your cabin. Stop in at the Big Save Market in Waimea for groceries (open daily 5 AM – 11 PM) or, for a larger selection, go to the Safeway in Puhi on your way up (Lihue.) It's open 24/7 so no worries. If needed, pick up a cheap styrofoam cooler at Walmart, also in Lihue. They are open 6 AM – 11 PM for your convenience.

Koke'e Lodge in Koke'e State Park
Eating out while staying at the Koke'e Cabins
If you prefer eating out, it's a 15+ mile drive down to and back from Waimea or beyond for dinner. Although it's only 15 miles, it will take you at least 30+ minutes. Keep in mind, we're not talking freeway miles here, and it's not an easy drive back in the dark! Streetlights as you drive up the winding mountain road? Not!
Hiking in Koke'e and Waimea Canyon
There are extensive hiking trails in both parks with spectacular views. The opening photo is of Waimea Canyon while the one below is the view of the Napali coastline from the end of the road. Yes, spectacular for sure. Research trails online before coming to your Koke'e cabin as there is no internet or buy a hiking book prior to your arrival. There is very little information on trails once you are there.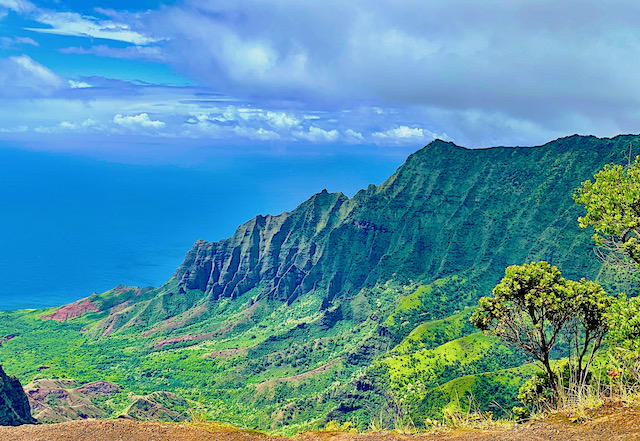 The magnificent Napali Coast as seen from the end of the road in Koke'e State Park.
In conclusion
Start planning early. Cabins in Koke'e book up quickly, often for several months in advance.
Try to arrive at your Koke'e Cabin before dark, especially if you are unfamiliar with the road.
Bring clothing for layering.
Bring your linens and towels.
The refrigerators are all full-size, so don't skimp on bringing food!
Don't forget to get several bags of firewood. We generally get one for every 2 nights.
Bring information on your favorite hiking trails.
Have a great time.
Want more of Kauai?
If you'd like more of Kauai, please visit our Early Morning Princeville Walk or our Amazing Limahuli Garden Tour. We also have a fairly comprehensive guide to Ha'ena State Park/Ke'e Beach as well as Waimea Canyon and Koke'e State Park.
Need help packing? We've got you covered there too. Here's the best Kauai Packing list. You may also like to pick up one of these excellent Kauai Guide Books to prime you for your visit.
Join us in our travels
Was this post helpful? We sure hope so – please pin and share it to your heart's content. Plus, we welcome your company, your comments, and whatever else you'd like to add as we go about our travels: just sign up in the right-hand sidebar for our email notifications. We'll let you know when we have new posts or anything else exciting happens. Sell or share your email? Never! Your privacy is very important to us, and we hate it when that happens to us! Been to Koke'e? Let us know in the comments below.
Heading to the Big Island? Take a look at our post on Volcano National Park. Things have changed a bit since we wrote this piece, but the views are still just as dramatic and exciting. Aloha.
Save it for later. Pin it!