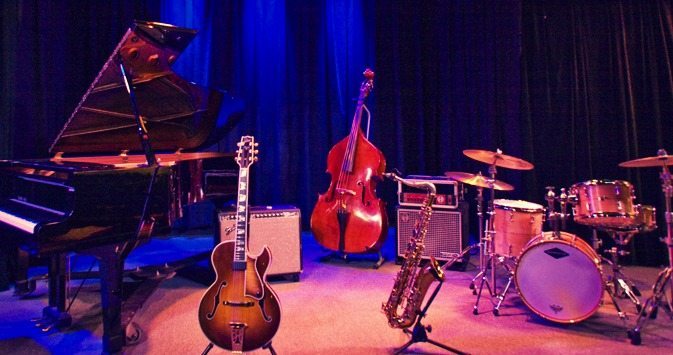 When I was living in New York City, one of my favorite pastimes was wandering through the charming streets of Greenwich Village. I would often find myself entering a cozy, dimly lit lounge to immerse myself in the musical magic of a jazz trio. And what better way to end the night than at a French bar and bistro, savoring a glass of red wine and a plate of delectable brie?
But let me tell you, it's not just the Big Apple and New Orleans that boast exceptional live musicians and enchanting jazz bars. Central Florida, my friends, is home to some extraordinary live music venues with their own unique atmospheres. Whether you're a fan of jazz for dancing, crooning, or simply enjoying alongside a dirty martini, Orlando has plenty of jazz tunes to offer. So why not plan a special date night centered around embracing America's national treasure – jazz – while supporting our city's talented musicians and venues?
Live Jazz in the Orlando Area
Blue Bamboo Center for the Arts
Located conveniently off of Fairbanks in Winter Park, the Blue Bamboo Center for the Arts is a haven for art and music enthusiasts alike. They recently hosted their very first Jazz Festival, offering free concerts for all to enjoy. However, the true gem of Blue Bamboo is the Orlando Jazz Orchestra. This exceptional orchestra comprises some of the most talented jazz musicians in Central Florida, led by none other than Greg Parnell, former road manager and drummer for the renowned Glenn Miller Orchestra.
But that's not all – you can also indulge in the delightful sounds of the Eddie Marshall Blue Bamboo Big Band, as well as captivating jazz trios and visiting artists. For a truly immersive experience, I recommend checking out their Thursday night "jazz jam" around 8 PM. It's a fantastic opportunity to witness local musicians come together, improvise, and create magic on stage.
Blue Bamboo Center for the Arts – 1905 Kentucky Ave, Winter Park
Timucua Arts Foundation
Don't be fooled by its unassuming appearance – the Timucua Arts Foundation, located just off Kaley Street, is a hidden gem in the Delaney Park neighborhood. The owners, Benoit and Elaine, built this beautiful home with one purpose in mind: to host unforgettable concerts. With its three-tier theater and impeccable acoustics, Timucua provides an intimate setting for jazz artists and trios to showcase their talents. And it's not just jazz you'll find here; they also offer a wide range of live music performances, comedy shows, poetry readings, and art exhibitions.
When you visit Timucua, don't forget to bring your own beer or wine to share. It's the perfect opportunity to make new friends and immerse yourself in the vibrant Orlando arts scene. Check their live calendar to stay updated on upcoming jazz performances and other exciting events.
Follow Timucua Arts Foundation on Instagram for event updates and show announcements.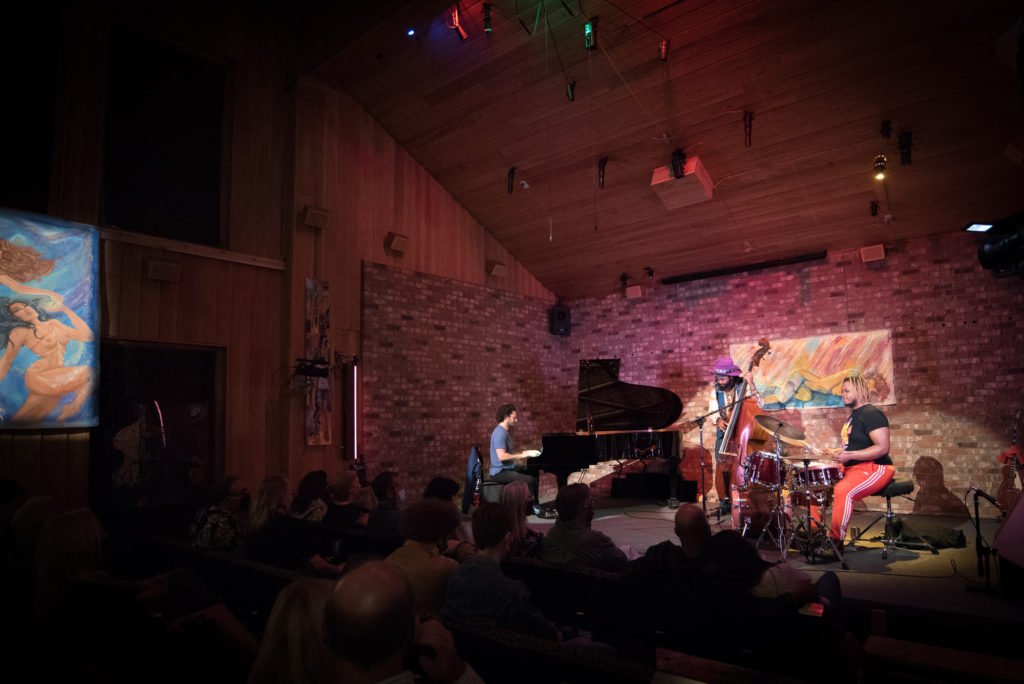 Image credit: Timucua Arts Foundation
Jazz Tastings
If you're looking for a truly memorable date night, look no further than Jazz Tastings in Maitland. This family-owned jazz venue offers captivating live performances, a full bar, and a seasonally rotating restaurant menu. It's the perfect place to immerse yourself in the world of jazz while indulging in a delicious meal. Be sure to check their entertainment calendar for weekly events, including special performances like their popular Brazilian jazz nights. Please note that there is a $10 cover charge per person on Friday and Saturday nights.
Make a reservation at Jazz Tastings.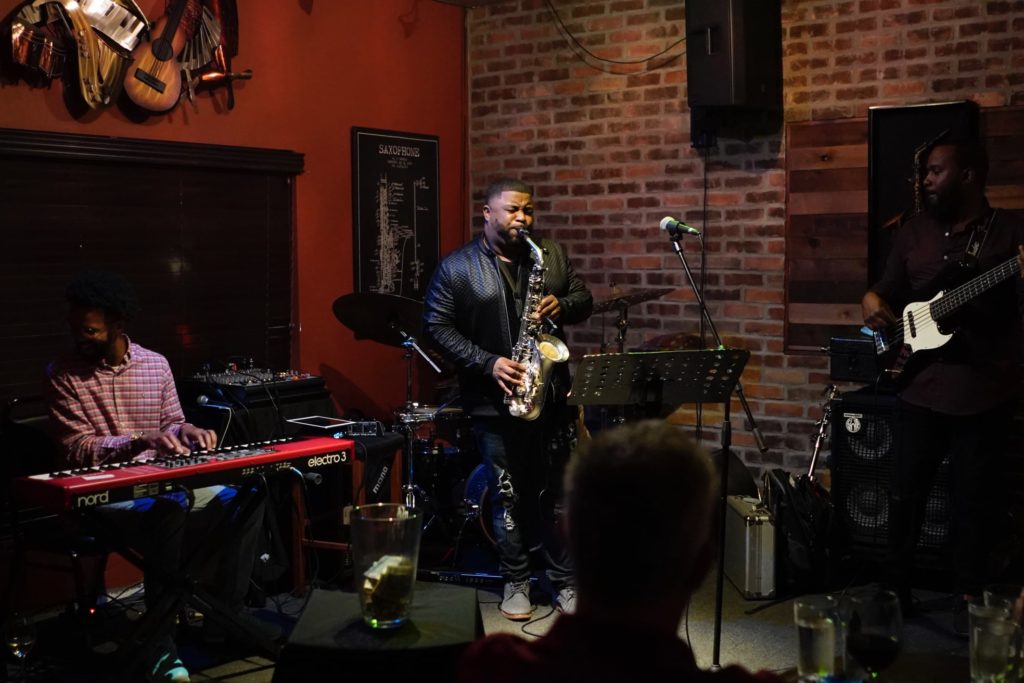 Image credit: Jazz Tastings
Live Jazz at Eddie V's Prime Seafood
Looking for a sophisticated dining experience accompanied by live jazz music? Look no further than Eddie V's Prime Seafood. This elegant establishment is known for its impeccable service, fresh Florida seafood, and, of course, captivating live jazz performances. With live jazz playing seven nights a week in the V Lounge, Eddie V's sets the stage for a truly enchanting evening. There's a reason they describe the ambiance as "civilized seduction." You can also find Eddie V's locations in Ft. Lauderdale and Tampa, making it a timeless favorite for jazz enthusiasts across Florida. Don't miss the happy hour specials from Sunday to Thursday, starting at 4:00 PM and ending at 6:30 PM.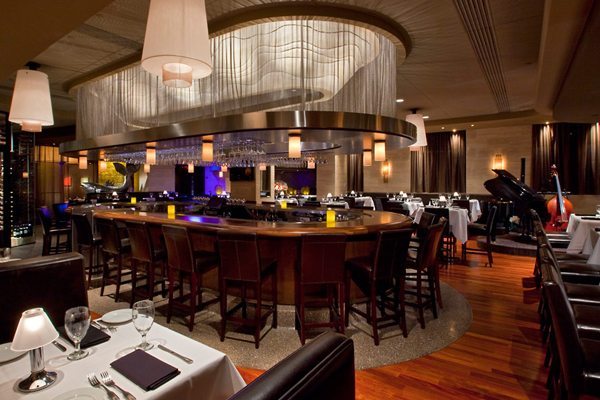 Image credit: Eddie V's
Vinia Wine & Kitchen
For an intimate and cozy jazz experience, venture to Vinia Wine & Kitchen, nestled among the charming cobblestone streets of Hannibal Square in Winter Park. This delightful wine bar and restaurant not only boasts an impressive selection of European wines and mouthwatering scratch-made tapas but also hosts live musicians every Thursday night. Whether you're a fan of classic jazz, bossanova, or even flamenco, Vinia Wine & Kitchen has something to satisfy your musical cravings. Make sure to reserve a table in advance, as Thursday evenings are quite popular, and seating is limited.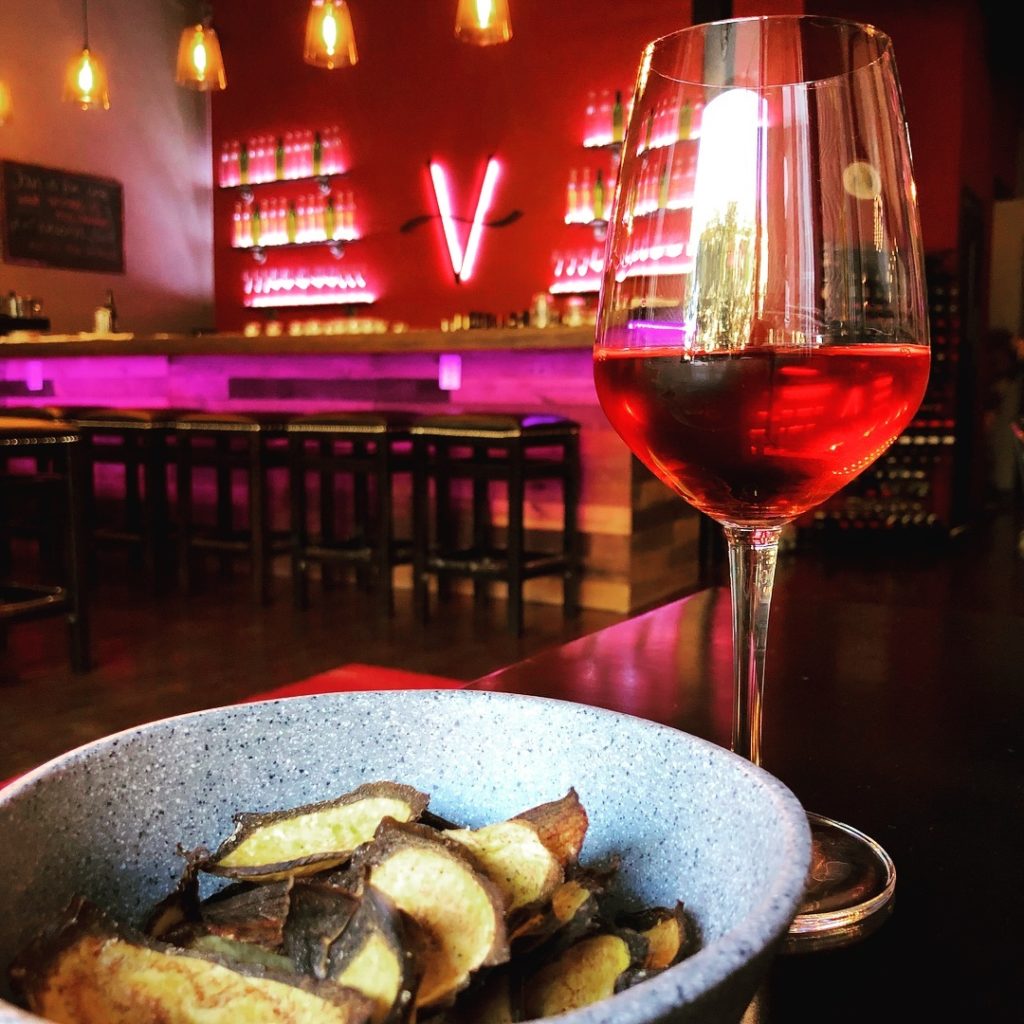 Image credit: VINIA Wine & Kitchen
More Live Jazz Events
If you're craving even more jazz-filled adventures, Orlando has you covered. Here are a few additional live jazz events to explore:
Pilars Weekly Jazz Jam, Sundays
Get Your Jazz on at the Alfond Inn, seasonal
Sanford Art & Jazz Night, monthly
Live Music at Digress Wine in College Park, occasional
Sunday Jazz Brunch at the Grand Bohemian, Sundays
The Jazz Orchestra at Dr. Phillips Center
So grab your loved one, pour a glass (or maybe a bottle) of wine, and immerse yourselves in the mesmerizing world of live jazz in Central Florida.
Feature image credit: Bud, Not Buddy