Located along the Trinity River, Dallas is a city that boasts architectural splendor and captivating tourist attractions. Renowned as the main commercial hub of the Southern region, Dallas has gained the moniker of Silicon Prairie due to its fast-paced, technology-driven metropolis.
If you're looking to explore the vast quantity of landmarks that Dallas has to offer, there is no better way than taking a helicopter tour. In this article, we will guide you through some of the best Dallas helicopter tours to help you plan the perfect flight!
Best Helicopter Rides in Dallas
As a booming tourism hot-spot, Dallas is home to fantastical sites that are sure to leave you in awe. A helicopter ride over Dallas offers a birds-eye view of this bustling city, whether you are a tourist seeking adventure or a resident looking for a new perspective.
Epic Helicopters
Epic Helicopters, a locally-owned aerial tourism company, is a reputable contender in air tourism. With an excellent safety record and a promise of friendly and professional service, Epic Helicopters offers a range of exciting Dallas helicopter tours.
Their air tours range from USD $400 to $500, depending on the chosen tour. Additionally, their Sizzling Summer specials provide large discounts on certain flights, making it an opportunity not to be missed.
Sunset Tour | Sizzling Summer Special
Experience the magic of a Texas summer with the Sunset Tour. This helicopter tour takes you 700 feet into the air over the downtown Dallas skyline, allowing you to witness the sinking sun as it bathes the city in a dazzling show of pink, purple, and gold.
Capture the picturesque view of the last rays of sunlight reflecting off the tallest buildings, and watch in awe as the city begins to light up for the night. This popular tour, lasting about twenty minutes, is perfect for photography enthusiasts looking to capture the perfect shot.
Fireworks Tour | Sizzling Summer Special
For a truly mesmerizing experience, the Fireworks Tour offers an unforgettable adventure. Available every Friday throughout the summer, this tour allows you to witness the annual Dallas fireworks show from a safe distance above the city.
As darkness falls, marvel at the eccentric city lights of Dallas and admire the night sky as it explodes with showers of light and color. Share this breathtaking spectacle with your loved ones and create lasting memories together.
Downtown Dallas Helicopter Tour
Embark on a 25-minute aerial tour of downtown Dallas, where your pilot will provide informative commentary as you fly over unique landmarks of the Silicon Prairie. From the Perot Museum to Cotton Bowl Stadium and White Rock Lake, experience the beauty of this ornate landscape from above.
Make sure to bring along your camera to capture the stunning views offered during this informative tour, perfect for both Dallas residents and curious tourists alike.
SKY Helicopters
SKY Helicopters is a long-standing aerial tourism company that prides itself on well-maintained aircraft and a friendly crew. Offering some of the best Dallas helicopter tours, flight training, and even aerial video services for major TV networks, SKY Helicopters aims to provide professional and accommodating experiences.
Their helicopter tours range from USD $400 to $800 for two passengers, with tour durations ranging from 30-60 minutes.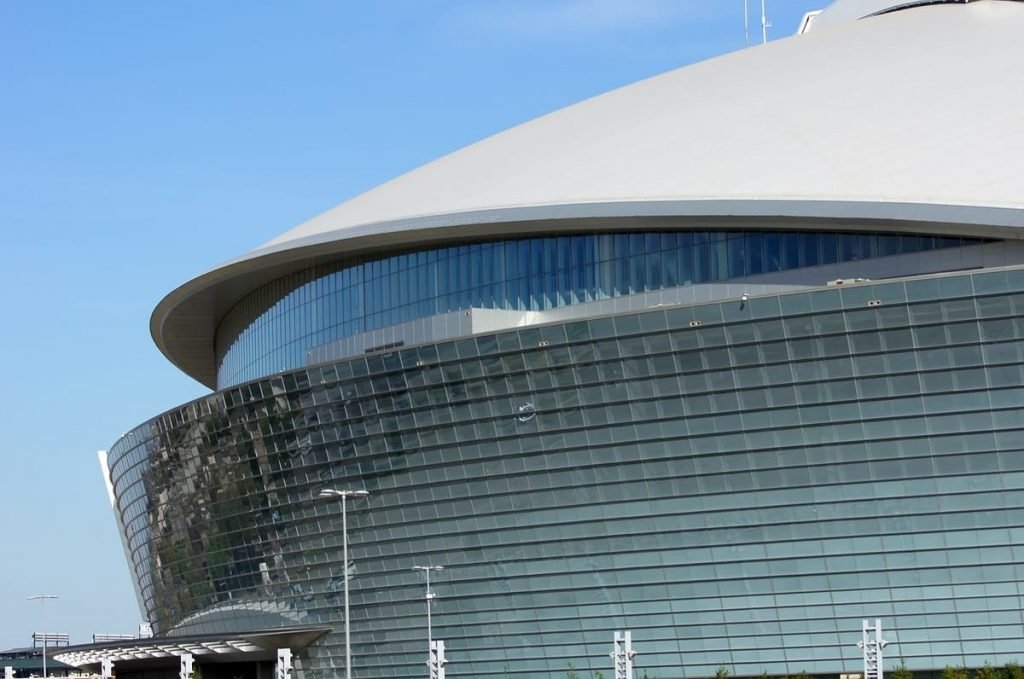 Stadium and Globe Life Park Tour
Take a 45-minute flight with SKY Helicopters and enjoy an extensive tour of downtown Dallas. Fly over the AT&T Stadium and witness famous landmarks, such as Six Flags Over Texas, Addison Galleria, and the High Five interchange.
From above, marvel at the Globe Life Park and other architectural wonders, immersing yourself in the vast urban landscape of Dallas. This tour is perfect for those with an appreciation for culture and architectural achievements.
Dallas / Fort Worth Tour
SKY Helicopters also offers an hour-long tour over downtown Dallas and downtown Fort Worth. Spot the AT&T Stadium, Sundance Square, the Water Gardens, and even the Fort Worth Stockyards. This extended tour allows you to explore the rich history and attractions of both cities.
Some Final Thoughts on Helicopter Tours in Dallas Fort Worth
A helicopter tour in Dallas is a thrilling addition to your dream vacation. With its diverse range of memorable sights, don't hesitate to book your ticket and explore this culturally vibrant city.
To discover more helicopter tours in the US, check out the Ambassadeur Hotel website for additional tour options.
From the Margaret Hunt Hill Bridge to the nodding fields of tulips, Dallas is a city that never fails to surprise. Embrace the call of this cultural hub and embark on an adventure like no other!