For those seeking a true vacation experience, nothing quite beats lounging on the beach with a refreshing cocktail in hand. Let your worries fade away under the warm sun as you take in the breathtaking backdrop of white sandy beaches and crystal-clear Caribbean waters. The sensational Grand Cayman beach bars offer the perfect haven for those in search of a delectable drink by the shore. Join us as we explore some of our favorite bars, where you can indulge in the finest and most tantalizing creations our island has to offer. And for insider tips on planning your dream getaway, be sure to access our local Vacation Guide!
Discover the Best Grand Cayman Beach Bars
1. Bar Jack
Nestled along the pristine Seven Mile Beach, Bar Jack is renowned for its stunning sunset views. Sink into one of their plush seats and sip on their famous pina coladas while witnessing the rhythmic crash of the waves against the shoreline. If you've built up an appetite after soaking up the sun, Bar Jack also serves light bites for a revitalizing snack. Conveniently located at The Residences Seven Mile Beach in Grand Cayman, you can take a dip in the pool, unwind on the sand, and then saunter over to Bar Jack at your leisure for a delightful cocktail or two.
2. Sandbar Grand Cayman
Picture yourself savoring a delightful drink and relishing in mouthwatering appetizers, with the gentle ocean breeze caressing your hair. If this sounds like paradise, then Sandbar Grand Cayman is your go-to spot! Indulge in the picturesque sunset views from their outdoor seating area and let the tranquil ambiance wash over you.
3. Coconut Joe's Beach Bar and Grill
If you're in the mood for a laid-back Grand Cayman beach bar experience, make your way to Coconut Joe's Beach Bar and Grill. Catch the game on their large screen as you root for your favorite team. Share a round of beer buckets with friends and savor their fantastic food. Keep an eye out for their exciting events happening during your stay at The Residences Seven Mile Beach in Grand Cayman, ensuring you don't miss out on any of the fun!
4. The Wreck Bar and Grill in Rum Point
For those who yearn to sip a tropical beverage while nestled in a hammock on the beach, your dreams can come true at The Wreck Bar and Grill in Rum Point. This exceptional restaurant and bar not only serves mouthwatering authentic local cuisine but also crafts the most divine cocktails you've ever tasted. Embrace the laid-back atmosphere as you lounge on the beach and savor their extraordinary libations. Plus, Rum Point is the perfect place to spend the day, with thrilling jet ski adventures followed by a relaxing drink to unwind.
Embark on Your Paradise Getaway Today
Are you ready to immerse yourself in the unrivaled ambiance of Grand Cayman beach bars? Book your stay with us at The Residences Seven Mile Beach in Grand Cayman, where you'll find the epitome of luxury and comfort. Our deluxe suites and amenities are tailored to exceed your expectations, offering breathtaking views of white sandy beaches, crystal-clear waters, and lush gardens. Start planning your ultimate stay by browsing our collection of luxurious residences and villas. Your dream vacation awaits at Ambassadeur Hotel!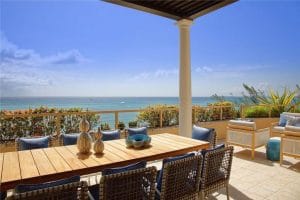 Image: Ocean view from Residence 712 at The Residences Seven Mile Beach in Grand Cayman
Remember, when it comes to paradise, nothing beats the sublime experience of lounging on the beach with a delicious drink in hand. Let the cares of the world drift away as you indulge in the finest offerings of Grand Cayman beach bars. Join us for a memorable escape where relaxation and enjoyment await at every turn. Book your extraordinary getaway today at Ambassadeur Hotel, and prepare to be captivated by the beauty of the Cayman Islands.