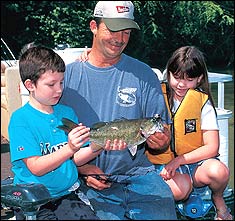 By Mike Gnatkowski
There are some spring rituals that you always look forward to. Putting the boat in for the year, pulling the gas grill out of storage or planting flowers to brighten up your humble abode. Another is planning a summer vacation. The actual planning may begin months earlier, but when crunch time approaches is when the tough decisions have to be made. I don't know about you, but any summer vacation that I'm going on is going to have fishing as one of the main activities, but you need to find somewhere that offers fun for the whole family.
Following is a selection of great locations that should make everyone happy.
Marquette County's slogan is "Discover how civilized our wilderness can be." It's really a play on words that describe the area perfectly. If you don't like missing the comforts of home when you're visiting the wilds of Michigan, Marquette is the place to be. There's plenty of culture, fine dining, museums, art fairs and more to give you that big-city feeling. But it's the area's nature and scenery, plus the fishing, which make Marquette a natural destination for your next family getaway.
Water is a big part of the allure of Marquette. Its rich shipping heritage can be seen everywhere, including the Marquette Underwater Preserve, which encompasses 24 miles of shoreline where scuba divers can dive on wrecks of schooners, steamers and commercial fishing vessels claimed by the ferocity of Lake Superior. Several area museums celebrate the shipping and mining heritage the area is famous for. There are two marinas on Lake Superior for families who want to bring their own boats, or they can book a charter-fishing trip on one of several charter boats that operate out of the marinas. There are miles of Lake Superior beaches visitors can stroll looking for unique stones, or they can travel one of the many hiking and biking trails that lead to several breathtaking scenic lookouts. There is also golfing, a Gus Macker tournament, Art on the Rocks, waterfalls, the chance to see a moose and exploring in several spacious wilderness tracts. Camping and lodging facilities abound. There is no shortage of things to do and see while you're vacationing in Marquette.
For more information on accommodations, amenities and things to do in and around Marquette, contact the Marquette County Convention & Visitors Bureau at 1-800-544-4321 or online at www.marquettecounty.org.
Finding a place to wet a line in and around Marquette isn't difficult. Deciding which place to try and what to fish for can be, however. One place that usually produces steady action for a variety of species that will keep kids interested is 210-acre Witch Lake.
Witch Lake is located southwest of Marquette between Channing and Republic off M-95. The lake reaches depths of up to 100 feet, but features plenty of gravel shoals that support good populations of walleyes and smallmouths. Weedbeds are abundant, and those looking to keep young anglers smiling will find plenty of perch and bluegills close to the weeds. Use a slip-bobber to suspend live bait just off bottom and chances are you'll catch a smorgasbord of species. Try worms, minnows or leeches. A hotspot for a variety of species is on the east end of the lake along the contour that leads to deep water. Around a small island on the southwest side of the lake is a good starting point. There is a public access on the south side of the lake that features a paved ramp.
For more information on Witch Lake and other Marquette County lakes, contact the Western Lake Superior Management Unit of the DNR at (906) 353-6651.
Lake Gogebic, at 12,800 acres, is the Upper Peninsula's largest inland lake and provides visiting angling families plenty of opportunities for walleyes, jumbo yellow perch and husky smallmouths.
First planted in the early 1900s with walleyes, Lake Gogebic continues to produce consistent walleye action, although the fish tend to run on the small side. The modest 'eyes are great eating though. Some of the perch the lake gives up rival the walleyes in size. Jumbo perch in the 12- to 14-inch range are not uncommon. If you work at it, a perch dinner is guaranteed.
Targeting Lake Gogebic's walleyes and perch isn't difficult. Both species are suckers for live bait either suspended below a slip-bobber, or dragged or drifted along the bottom. Worms or minnows will catch both perch and walleyes, but wigglers often work the best for perch. The deepest spot in Lake Gogebic is just over 30 feet, so fish can be found just about everywhere. One hotspot for panfish is anywhere you see diamond-shaped markers along the shoreline. The markers indicate fish shelters that have been placed in the lake. Lake Gogebic is a sleeper for smallmouths and the brown bass will add some excitement when the perch or walleyes aren't cooperating.
Lake Gogebic is located in Gogebic and Ontonagon counties near the town of Bergland. There is a boat launch at Lake Gogebic State Park on the lake's southwest shore and a public launch on the north end of the lake near Bergland.
Several resorts cater to families who like to fish. Contact Nine Pines Resort at (906) 842-3361 for more information.
Lake Gogebic is only a short drive from Porcupine Mountains State Park. One of the gems of the park is Lake of the Clouds, which has some tremendous smallmouth fishing. Hiking trails lead to scenic vistas, numerous waterfalls, striking geologic formations and the Lake Superior shoreline. Walk quietly and you might see a black bear or wolf.
For more information on in the western U.P., contact the Western Upper Peninsula Convention & Visitors Bureau at (906) 932-4850 or online at www.westernup.com.
Mackinac County's 4,230-acre Brevoort Lake is one of those lakes where you never know exactly what you're going to catch, which makes it a natural choice for a family fishing getaway. Much of the lake is largely undeveloped, offering a lot of secluded shoreline to prospect for the lake's abundant populations of crappies, bluegills, walleyes and pike.
Several locations can be counted on to provide excellent panfishing. Structure and weeds in Boedne Bay on the lake's northwest corner make it a natural hotspot for slab crappies and bluegills. Long and Fox Points along the south shore are two locations that produce buckets of panfish. Christensens Bay on the lake's far east end is good, too. Walleyes frequent the midlake reefs and humps. All species are suscept
ible to crawlers suspended below a slip-bobber or drifted along the bottom.
Contact Lorente's Landing at (906) 643-9308 for information on resorts, fishing maps and live bait.
Brevoort Lake is only a short drive from some of the U.P. premier attractions. You're close to Kitch-iti-Kipi Spring at Manistique, the Seney Wildlife Refuge, the Pictured Rocks, the Mackinac Bridge and Mackinac Island, and thousands of acres to explore within the Hiawatha National Forest. There are museums, golf, canoeing, casinos, boat tours and much more. There are plenty of reasons to make Brevoort Lake your family fishing destination this summer.
For more information, contact the Mackinac Area Tourist Bureau at 1-800-666-0160 or online at www.mackinawcity.com.
I spent a lot of time during my younger years wading and fly-fishing on the Au Sable River near Grayling. The Au Sable River was one of the premier trout streams in the country back then, and I'd tempt its wily trout from daylight to dark until blisters on my casting hand forced me to quit.
But trout aren't the only thing you can catch in the Grayling area. In fact, habitat improvement, plants and better management have made Lake Margrethe one of the hottest lakes in northern Michigan and a good place to consider taking the family this summer.
Located in west-central Crawford County, 1,920-acre Lake Margrethe is located about three miles east of Grayling off M-72. Much of the land along the south and west side of the lake is state-owned, the northwest shore is crowded with cottages and the National Guard camp on the south shore is a hub of activity during the summer.
Lake Margrethe has a good population of perch and bluegills to keep kids busy. Try either side of Eagle Point on the north side of the lake in 10 to 15 feet of water with ice-fishing teardrops and wax worms for some hand-sized 'gills. Perch frequent slightly deeper water. The perch average 8 to 10 inches and love minnows fished right on the bottom. Once you get your fill of panfish, there are a lot of walleyes, pike and a few muskies in the lake to pull your string. Try along the eastern shoreline where the bottom slopes from 10 to 35 feet of water with Rapalas, crawler harnesses and live suckers.
A great source of information for planning your fishing vacation is Sportsman's Connection Michigan Fishing Map Guide. The guide goes into detail about the best hotspots and techniques on your favorite destination. Contact them at 1-800-777-7461 or online at www.sportsmansconnection.com for more details.
The Grayling area offers visiting families a lot more than just fishing. You can take a leisurely canoe trip down the Au Sable or Manistee rivers for a few hours or a few days. Hartwick Pines State Park is like a trip back to another era. There are virgin pines, an interpretive center and relics of the lumbering days, and they celebrate the logging heritage with several special days during the summer. There are museums that give insights into turn-of-the-century Grayling. You can see and feed huge trout at the city-run fish hatchery. You can hunt mushrooms, take a hike or ride trails on horseback, or try to catch a glimpse of the rare Kirtland's Warbler that nests only in northern Michigan. Add to this golf, swimming and boating and you'll have plenty to do on your visit to Grayling.
For information on things to do and see in Grayling, contact the Grayling Area Visitors Council at 1-800-937-8837 or online at www.grayling-mi.com.
Traverse City is a favorite with families planning a family fishing getaway. It's easy to see why. There are plenty of attractions, fun activities, entertainment, dining and the area's unsurpassed natural beauty. Add the fact that there are dozens of angling opportunities for everything from bass to panfish to trout and salmon, and you can see it's one place where the entire family can have a great time.
The National Cherry Festival attracts thousands of visitors to Traverse City in early July. In conjunction with the festival are parades, concerts by big-name entertainers, a lot of black sweet cherries to gorge on, fireworks, appearances by the Navy's Blue Angels, boat tours of the Maritime Academy training vessel, specialty shops, fine dining and a lot more. If nature is your thing, there are miles of beautiful Lake Michigan beaches, the Sleeping Bear Dunes National Lakeshore, canoeing on the Boardman River, the quaint Fishtown village at Leeland and charter fishing on Traverse Bay. For more information on accommodations and attractions, contact the Traverse City Convention & Visitors Bureau at 1-800-872-8377 or online at www.mytraversecity.com.
There are a lot of smaller inland lakes that have cottages to rent or resorts on them in the Traverse City area. One lake is 600-acre Silver Lake, located just southwest of Traverse City. Silver Lake is deep, clear and typical of a lot of lakes in northwest Michigan. Although it is fairly well developed, it still boasts some very good fishing, especially for perch and jumbo bluegills.
Both the perch and bluegills tend to inhabit the deeper water during the summer months. Early in the season you may find good numbers of panfish still in the shallows on the south end of the lake. Later, try drifting with just a piece of crawler over the 20- to 30-foot depths until you make contact. Throw out a marker and work the area more thoroughly. Where there are one or two big bluegills, there are likely to be more. Master-Angler-sized 'gills are not uncommon in Silver Lake. Many of the perch will top 10 inches. Walleyes are an added bonus.
For maps, fishing information and live bait, contact the Gander Mountain store in Traverse City at (231) 929-5590.
One of the best family vacations we ever went on was to Cadillac. We got a cottage at Pilgrim's Village Resort. We fished when we wanted, ate when we wanted and did whatever we wanted. It was relaxing. That's the great thing about family fishing vacations – they can be as busy or as relaxed as you want them.
Visitors to Cadillac have two options when it comes to fishing, Lake Cadillac or Lake Mitchell. Both offer excellent fishing and a variety of species. If you like to camp, you can stay at William Mitchell State Park, which is located right between the two lakes and has a channel that connects Mitchell and Cadillac where you can moor your boat.
Lake Cadillac, 2,580 acres, and Lake Mitchell, 1,150 acres, both have excellent panfish numbers. Cadillac is better for perch. Mitchell is better for crappies. Both have a lot of hand-sized sunfish and bluegills. Both have bass, with Mitchell having more largemouths and Cadillac having more smallmouths. Walleyes and pike can be caught in both lakes. Use a slip-bobber or drift with a split shot and a piece of worm and you never know what you'll catch.
For fishing information, live bait and boat rental on Lake Mitchell, contact Pilgrim's Village Resort at (231) 775-5412. On Lake Cadillac, contact Laura Lee's Landing
at 1-800-899-6755.
Families who enjoy hunting and fishing will want to tour the Carl T. Johnson Hunting & Fishing Center, which celebrates Michigan's rich hunting and fishing heritage. You can canoe on the Pine, Big Manistee or Pere Marquette rivers. There are several championship golf courses in the area, art fairs, specialty shops, exquisite dining at Chef Herman's Café, water parks, putt-putt golf and more.
For more information on planning a family fishing vacation in Cadillac, contact the Cadillac Area Visitors Bureau at 1-800-225-2537 or online at www.michiweb.com/cadillac/.
Grand Haven is a buzz of activity during the summer months, which should attest to its popularity with vacationing families. There is no shortage of things to see and do.
There's a festival nearly every month in and around Grand Haven, with the Holland Area Tulip Festival, Trillium Festival at J.P. Hoffmaster State Park and the Coast Guard Festival taking center stage. There are car shows, art fairs, the Great Lakes Sport Kite Championships, sand sculpture contests, fine dining, great beaches, a farmers market, Summerfest and more. For a complete list of summer activities, lodging and accommodations, contact the Grand Haven/Spring Lake Area Visitors Bureau at 1-800-303-4092 or online at www.grandhavenchamber.org.
By the time mid-May rolls around the Great Lakes charter season is in full swing out of Grand Haven. Spring chinook salmon headed north take up temporary residence off the mouth of the Grand River. As alewife schools move into spawn, kings go on a feeding binge and limits of silvery kings in the 5- to 15-pound range are the norm. Salmon topping 20 pounds are common. The kings lambaste spoons and body baits pulled behind shallow-set downriggers, off divers and behind inline boards. In June the fish move offshore to the 200- to 400-foot depths. The same tactics take a hodgepodge of salmon, steelhead and lake trout.
Booking a half- or full-day charter can be quite reasonable and makes for a great family outing. For information on booking a charter, contact Capt. Willis Kerridge, Thunderduck Charters, at (616) 847-0523 or Capt. Chip Klein, Hit Man Charters, at (616) 677-1860.
Time's a-wasting. Get on the phone or get connected on the Internet and start planning your own summer family fishing getaway. And if you pick one of these destinations, everyone will be happy.
Discover even more in our monthly magazine, and have it delivered to your door! Subscribe to Michigan Sportsman