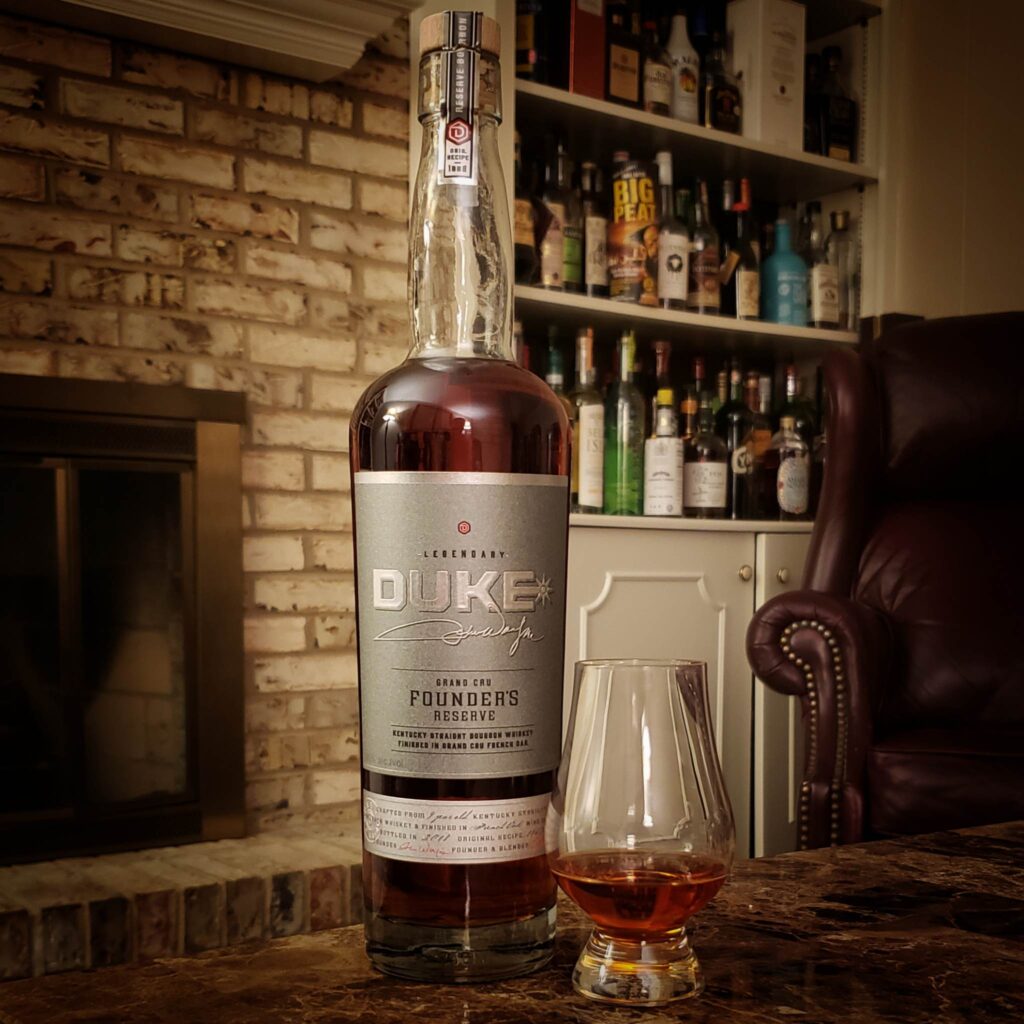 Duke Founders Reserve is a whiskey crafted with passion and expertise by Duke Spirits, in Owensboro, Kentucky. This exceptional bourbon has undergone a nine-year aging process in Cabernet Infused Grand Cru French Oak Wine Barrels, resulting in a unique flavor profile that is sure to impress even the most discerning whiskey enthusiasts. With an ABV of 55% and a proof of 110, Duke Founders Reserve delivers a robust and unforgettable experience.
Tasting Notes of Duke Founders Reserve
Nose: Immerse yourself in the inviting aroma of caramel, toasted oak, vanilla, cinnamon, dark fruits, cherry, plum, and nutmeg.
Palate: Prepare your taste buds for an explosion of bold dark fruits, cherry, and plum. The heavy caramel, strong toasted oak, vanilla, cocoa powder, anise, cinnamon, and nutmeg create a symphony of flavors that dance on the palate.
Finish: The finish is long-lasting, leaving a rich and buttery mouthfeel. Notes of caramel, oak, brown sugar, dark fruits, and spice linger, ensuring a memorable and satisfying conclusion to each sip.
Is Duke Founders Reserve an Approachable Whiskey?
Duke Founders Reserve can be described as a bold whiskey that welcomes you with its enticing fruit flavors. While it may be a touch strong for beginners, seasoned whiskey drinkers will surely appreciate its complexity and craftsmanship.
The Complex Flavor Profile of Duke Founders Reserve
Duke Founders Reserve showcases a multitude of layers that tantalize the senses. The nine-year aging process infuses the whiskey with rich caramel, vanilla, and oak flavors. Adding to the complexity, the whiskey is finished in Grand Cru Cabernet French Oak barrels, imparting delightful notes of dark fruits, cherry, and plum. The finish is accentuated by hints of anise, cinnamon, and rye spiciness, leaving a lingering and buttery sensation.
The History of Duke Founders Reserve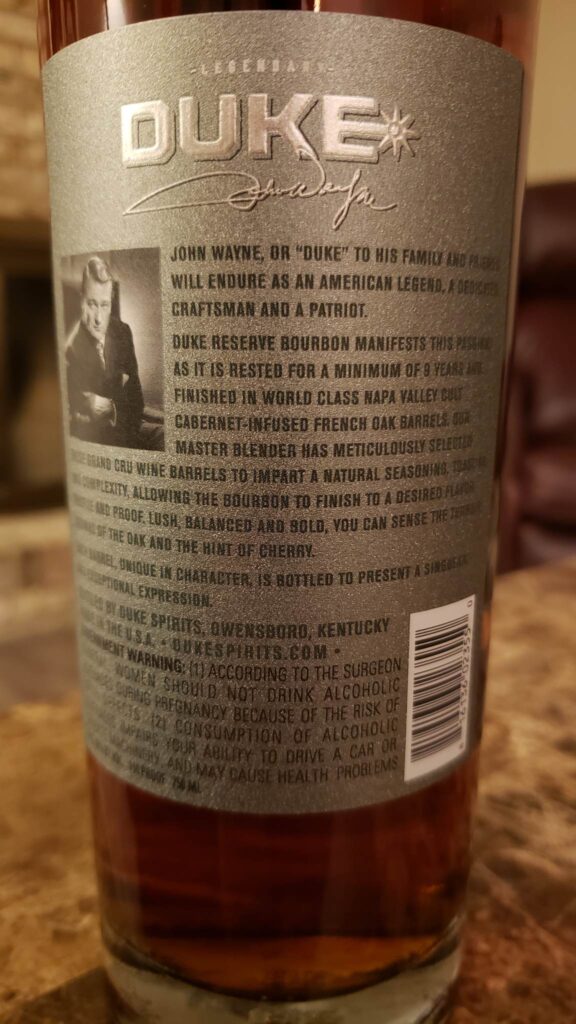 The Duke Founders Reserve bourbon pays homage to John Wayne, affectionately known as "Duke." This American legend was not only a dedicated craftsman but also a patriot. The whiskey reflects his unwavering passion, having been rested for a minimum of nine years and finished in world-class Napa Valley cult cabernet-infused French oak barrels. Each barrel is meticulously selected to infuse the bourbon with natural seasoning, toasting, and complexity. The result is a lush, balanced, and bold whiskey with rich oak aromas and a hint of cherry. Every bottle represents a singular and exceptional expression of craftsmanship.
The Strongest Attributes of Duke Founders Reserve
It's difficult to pinpoint a single flavor that stands out in Duke Founders Reserve because they all blend harmoniously, resulting in a truly exceptional whiskey. The combination of bold and balanced flavors in this bourbon rivals the best in the market.
Is Duke Founders Reserve Your Go-To Whiskey?
If Duke Founders Reserve were more affordable, there's no doubt it would become a go-to whiskey for many. Its captivating flavors and expert craftsmanship make it a pour worth enjoying daily. However, due to its price point of $90 and limited availability, it is best reserved for those special moments when you want to indulge in something truly extraordinary.
Duke Founders Reserve: Excellence at a Fair Price
Duke Founders Reserve is priced accurately to reflect its exceptional quality. While it may seem a bit pricey at first, the bold and beautifully balanced flavors justify its higher cost. This whiskey guarantees a memorable experience that is well worth the investment.
In Conclusion
Duke Founders Reserve is a hidden gem that was generously gifted to me by a friend from San Francisco. This bourbon is truly a treat, as it offers an exquisite combination of heavy caramel, oak flavors, and the delightful influence of Grand Cru French Oak barrels. These exceptional qualities make it one of the best pours of bourbon I have encountered in recent memory, rivaling some of my personal favorites.
So, if you have the opportunity to experience Duke Founders Reserve for yourself, seize it without hesitation. The journey through its complex and captivating flavors is one you'll cherish. Cheers!
Let Us Know Your Thoughts
I hope you've enjoyed embarking on this tasting journey with me. If you decide to savor Duke Founders Reserve, please share your thoughts and experiences with me on social media via Reddit, Facebook, Instagram, or Twitter. Your insights and stories will further enrich the appreciation of this remarkable whiskey.
Thanks for joining me, and cheers to good times and great whiskey!
---