Photo Credit: La Lupita Taco and Mezcal Cabo San Lucas
If you're looking for an unforgettable Mexican culinary experience in Cabo San Lucas, you've come to the right place. From vibrant cantinas to beachfront eateries, this list of the best Mexican restaurants in Cabo will satisfy your cravings and leave you wanting more.
La Lupita Taco & Mezcal
If you want a taste of fantastic Mexican cuisine, La Lupita Taco & Mezcal is a must-visit. The joyously colorful atmosphere and fun cantina vibes make it the perfect spot for a chill night out with friends. The heart and soul of La Lupita are their al pastor tacos, considered the best in town. Don't forget to pair your meal with their impressive selection of mezcal. Sip on a mezcal flight served in jicaras (hollowed-out gourds) while enjoying the laid-back Cabo vibe. Keep in mind that La Lupita can get busy, so be prepared for a wait.
Los Tres Gallos
For authentic Mexican cuisine, look no further than Los Tres Gallos. This charming spot in the heart of Cabo San Lucas offers a cozy, colorful atmosphere that will sweep you off your feet. Indulge in their Fresh Baja lobster tail and Cochinita Pibil, both guaranteed to tantalize your taste buds. The mole dishes, crafted from old family recipes, are truly a treat. For an enchanting dining experience, grab a seat on their dreamy outdoor patio. Los Tres Gallos is a popular spot, so expect a wait.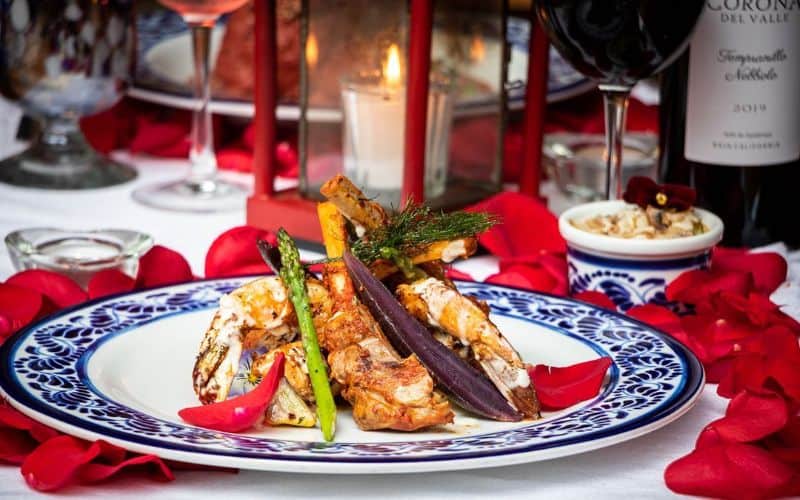 Photo Credit: Los Tres Gallos
The Office
If you're craving beachfront dining, head to The Office in Cabo San Lucas. Sink your toes in the sand and enjoy scrumptious Mexican food with live music serenading your ears. The Office is known for its irresistible Mango Margaritas, Mexican Coffee, and a mouthwatering variety of seafood and meat dishes. Immerse yourself in the authentic Mexican experience while witnessing breathtaking sunsets on Medano Beach. Keep in mind that The Office can get busy, so consider making a reservation.
Hacienda Cocina y Cantina
Prepare to be dazzled by the luxurious Mexican Hacienda style and breathtaking views at Hacienda Cocina y Cantina. Located by Land's End and the bay, this spot offers mouthwatering, authentic Mexican cuisine. Don't miss their seafood specialties, like the scrumptious Chile Relleno, or their exotic Molcajete chicken and steak. The ambiance, with its stunning backdrop of Cabo's natural beauty, is truly enchanting. The service at Hacienda Cocina y Cantina will make you feel like a VIP, and reservations are a breeze.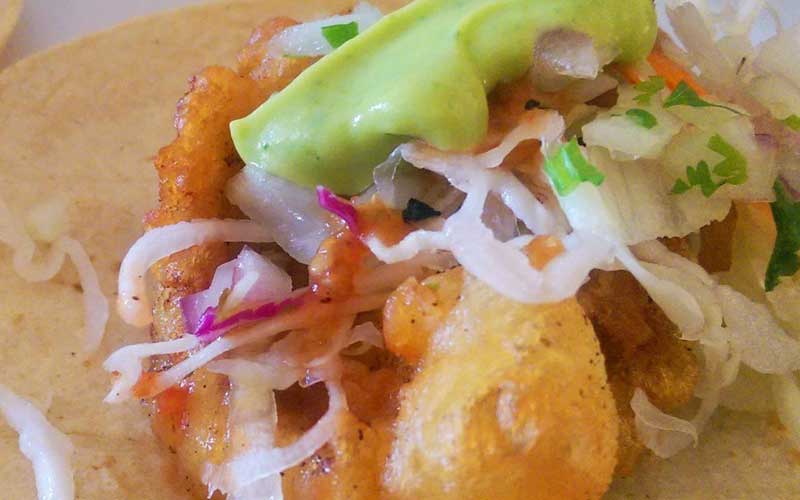 Photo Credit: Tacos Gardenias
Tacos Gardenias
For a charming spot that serves a delicious variety of tacos and Mexican home-style dishes, visit Tacos Gardenias. The warm and open-air ambiance is perfect for enjoying the gorgeous Cabo weather. Feast on their popular fish and shrimp tacos, both breaded and grilled, or try their cochinita pibil. Their seafood soup and ceviche are also delightful. The friendly staff will make you feel right at home, and the reasonable prices are an added bonus.
Edith's Restaurante
Hidden in beautiful Cabo San Lucas, Edith's Restaurante is a charming gem that shouldn't be missed. The inviting atmosphere, twinkling lights, and Mexican décor create the perfect setting for a memorable dining experience. Indulge in succulent dishes like Breaded Jumbo Shrimp, Wally's Special (lobster & shrimp), or their signature dessert, the Home-made Flan. Edith's has received prestigious awards for its culinary excellence, guaranteeing you the best of the best. Make a reservation to secure your spot in this exquisite restaurant.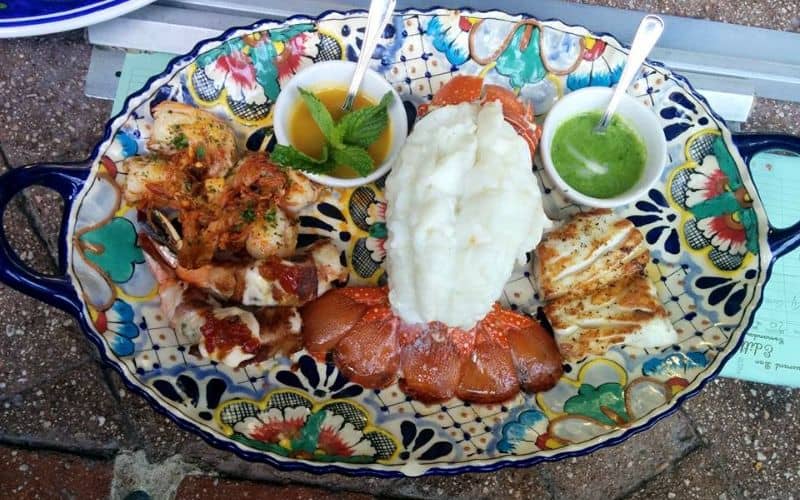 Photo Credit: Edith's Restaurante Cabo San Lucas
Rosa Negra
For a snazzy dining experience in Cabo San Lucas, Rosa Negra is the place to be. This contemporary Mexican restaurant offers a wide array of Mexican cuisine that will make your taste buds dance. The warm and inviting atmosphere, filled with Latin American vibes, creates a relaxed and elegant dining experience. Indulge in fine cuts like Wagyu or Kobe Beef, as well as seafood dishes like King Crab. Rosa Negra takes pride in offering an immersive culinary experience that showcases the best of Latin American cuisine. Make a reservation to secure your spot in this popular restaurant.
Mariscos Paseo del Centenario
For a hidden gem in Cabo San Lucas, venture to Mariscos Paseo del Centenario. This delightful spot offers mouthwatering Mexican seafood in a casual and local atmosphere. Enjoy the inviting aromas as you stroll through Calle Cabo San Lucas. Dive into their to-die-for ceviche or their house specialty, Fitch. You can also try their Aguachiles, a spicy dish of shrimp and veggies marinated in lime and chili. Mariscos Paseo might not impress fancy diners, but for those seeking authentic flavors, friendly service, and a true local atmosphere, it's the perfect spot. Plus, it offers reasonable prices.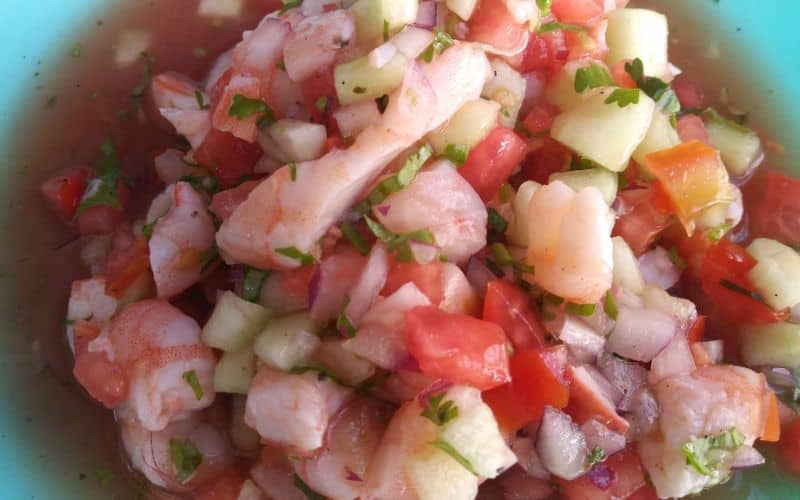 Photo Credit: Mariscos Paseo Del Centenario
Don Manuel's
For an exquisite dining experience in Cabo San Lucas, visit Don Manuel's in the luxurious Waldorf Astoria Los Cabos Pedregal. This restaurant's hacienda-style architecture and cozy yet elegant atmosphere will captivate you. Don Manuel's offers a medley of contemporary and traditional Mexican cuisine. Treat yourself to dishes like the Braised Lamb Shank in Mile De Olla, Crusted Seabass, or the Smoked Pibil Lobster Tail. The menu changes seasonally, ensuring that only the freshest locally sourced ingredients are used. Expect top-notch service and book a reservation in advance to secure your spot.
Mi Casa
Looking for delicious Mexican cuisine in Cabo San Lucas? Look no further than Mi Casa. This charming restaurant, located in the town square, offers a vibrant and colorful atmosphere. The lively mariachi band and vibrant décor will tickle your senses. Indulge in their signature dish, the flavor-packed Chile en Nogada. For something different, explore their vegan options, such as the Vegan's Combo. Mi Casa can get busy at peak hours, but making a reservation is hassle-free.

Photo Credit: Casa Don Rodrigo
Casa Don Rodrigo
Discover Casa Don Rodrigo, a delightful gem tucked away in San José del Cabo's historic district. This 1920s casa offers a beautiful garden dining area, designer indoor seating, and a wine bar for a touch of refinement. Indulge in their scrumptious seafood dishes and mouthwatering organic salads. Don't miss their cheese platter and wine pairing, a divine combination. Casa Don Rodrigo also offers a traditional cantina experience, where tableside service and entertaining stories from the locals create a unique dining experience. Enjoy their one-of-a-kind vibe and savor the flavors of Mexico.
Las Guacamayas
Cabo San Lucas is a treasure trove of delicious Mexican food, and Las Guacamayas is no exception. With its lively atmosphere, colorful decor, and buzzing crowd, it's a popular spot among locals and tourists alike. Indulge in their authentic pastor tacos with extra pineapple, a customer favorite. Their shrimp molcajete is also a must-try. If you love Las Guacamayas in Cabo, be sure to check out their sister restaurant in San Jose del Cabo. This may not be the quietest spot, but it offers a lively dining experience at a reasonable price.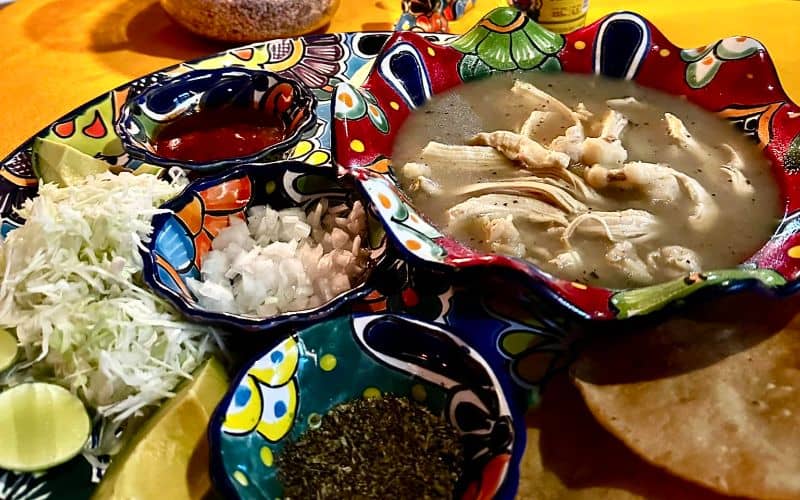 Photo Credit: Maria Jimenez Restaurante Mexicano
Maria Jimenez
Experience the warmth of Mexican cuisine and hospitality at Maria Jimenez. This local secret, just three blocks from Plaza Puerto Paraiso, welcomes you with the aroma of freshly prepared tortillas. Dive into mouthwatering dishes like their shrimp Chile Relleno or Tortilla Soup. Don't miss their dreamy flan and apple strudels, followed by a heavenly margarita. The charming vibe and friendly service make Maria Jimenez a delightful spot. Keep in mind that it can get busy during peak hours.
Jazmin's Restaurant
Treat your taste buds at Jazmin's Restaurant, located in the heart of San José del Cabo. This authentic Mexican eatery has been enchanting visitors for over 20 years. Enjoy the cozy ambiance, colorful décor, live music, and thrilling Mexican shows. Indulge in their delectable margaritas and explore their tasty dishes, including Tacos al Pastor, Cochinita Pibil, and sizzling whole red snapper. Jazmin's offers friendly service, outstanding food, and great value for money. Make a reservation in advance to secure your spot and enhance your dining experience.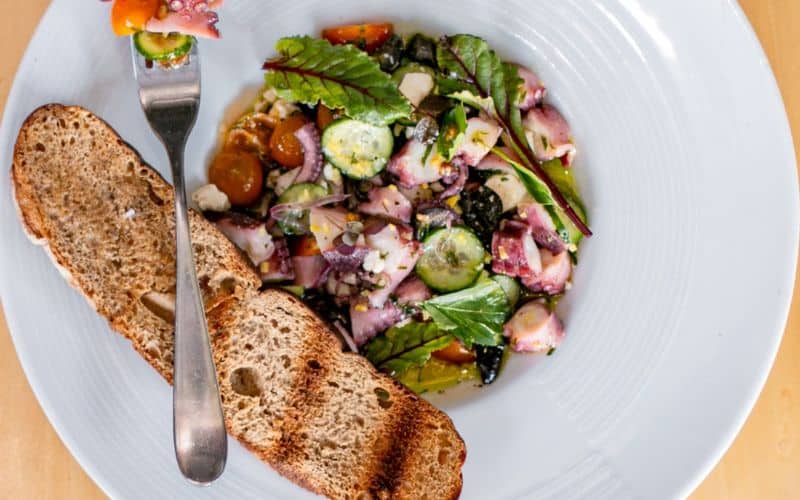 Photo Credit: COMAL at Chileno Bay Resort
COMAL
Prepare to grin from ear to ear when you visit COMAL, a contemporary Mexican and Latin American gem in Chileno Bay Resort. The laid-back atmosphere and stunning views create the perfect environment to enjoy the Cabo vibes. Indulge in their delicious chocolata clams, Wagyu Barbacoa, or totoaba ceviche. Don't forget to try their homemade churros, too. COMAL offers excellent value for its mouthwatering dishes, making it a must-visit spot.
La Esquina Choyera
For those seeking a hidden gem in Cabo San Lucas, La Esquina Choyera is a must-try. This casual spot exudes a friendly and welcoming atmosphere, complete with Mexican-themed décor. Their mouthwatering burritos, especially the ones with extra pineapple, are legendary. Another customer favorite is the chilaquiles verde. La Esquina Choyera may be hard to find and have limited seating, but that's part of its charm. If you're in search of an authentic Mexican dining experience at a reasonable price, this is the place to be.