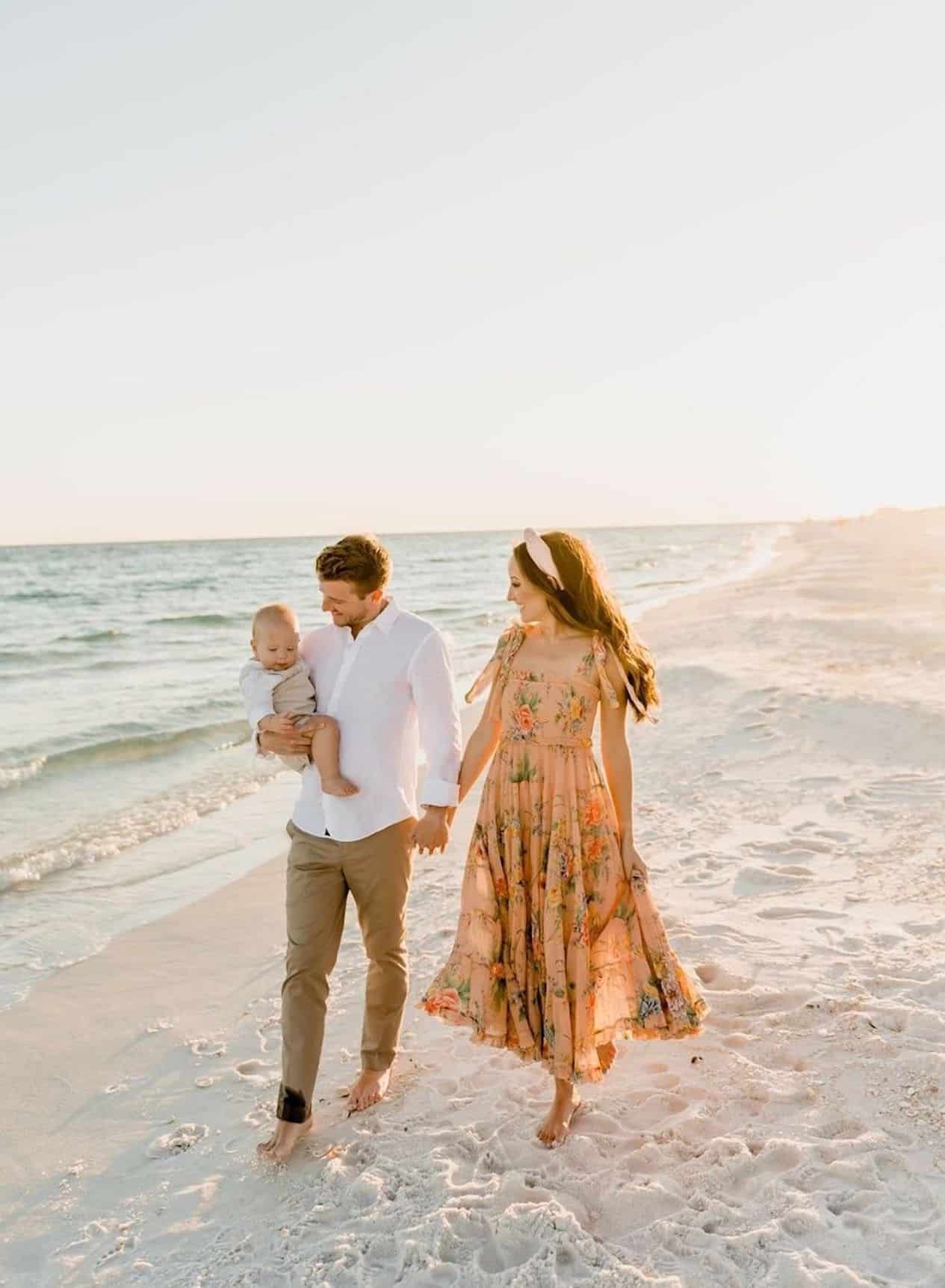 Photo by @sophialan
Introduction
As the holiday season approaches, you might find yourself planning a family beach photoshoot. Whether it's for Christmas cards, Happy New Year notes, or just capturing beautiful memories, choosing the perfect outfits can be a challenge. In this article, we've gathered chic and modern family beach portrait looks to inspire you for your upcoming photoshoot. We'll also provide some color palette ideas to help you create cohesive and stunning family photos. So, if you're wondering, "What should my family wear for beach pictures?"—we've got you covered!
What To Wear for Family Beach Pictures
When it comes to dressing your family for a beach photoshoot, there are a variety of outfit options to consider. The choice depends on the beach location and the atmosphere you want to create. If you're at a tropical beach like Hawaii, opt for breezy sundresses, lightweight shorts, and linen clothing in light neutral tones. On the other hand, if you're shooting near the coasts of Washington or Oregon, layering outfits would be more suitable.
You can choose between dressier or more relaxed clothing, depending on the level of formality you desire. The key is to select outfits that make your family feel comfortable and showcase their personalities. Don't be afraid to experiment with different textures and styles. Ultimately, your family's clothing should reflect their unique identity and make them feel confident during the photoshoot.
Choosing Colors for Beach Pictures
When it comes to beach photo shoots, neutral tones and subtle pastel colors work best. Colors like ivory, cream, beige, and tan complement the sand, water, and the sky's hues. These neutrals create a harmonious and timeless look against the beach backdrop. It's advisable to stick mostly to solid colors and incorporate pops of subtle patterns, such as stripes, florals, or polka dots, for added interest. Avoid overly busy patterns and bright, bold colors as they can be distracting and take away from the overall beach scene and your family's presence.

Photo by @couldihavethat
Beach Family Photo Color Palettes
To ensure a cohesive and visually appealing look for your family beach photos, consider the following color palette ideas:
White, khaki, and peach
Mist blue, light brown, khaki, and cream
Black, white, and cream
White and tan
Cream, white, and mist blue
White, denim, and cream
Tan, white, and stormy blue
White, gray, and pastel pink
All white
Feel free to mix and match these colors to create a stunning ensemble for your beach photoshoot.
Beach Family Photo Outfit Ideas
Now that we've covered color palettes, let's explore some outfit ideas to inspire you and your family for the photoshoot. These suggestions embody a laid-back, tropical vibe and are suitable for various family members:
White linen outfits paired with bare feet and rolled-up jeans exude freshness and fun—perfect for a tropical beach vacation.
For a more formal look, dress the girls in all-white linen dresses and the boys in linen button-downs with white or light khaki pants. This ensemble creates an ethereal and timeless vibe.
Add subtle splashes of color to your family beach photos by incorporating pastel pink. Opt for pastel button-down shirts or a pastel pink dress paired with neutral tones for a crisp and clean aesthetic.
Create a stunning look by sticking to beige, white, and cream colors. This combination provides a captivating and minimalist visual without overwhelming the beach scene.
Dress your little ones in comfortable and neutral-colored shorts, t-shirts, or rompers for an effortlessly cozy beach vibe.
Matching linen outfits in off-white or creamy tones are a classic choice that never disappoints for mother-daughter beach photoshoots.
For a slightly moody yet stylish feel, go for a combination of beige, all-white, and matching linen outfits. This ensemble is perfect for creating timeless and relaxed family portraits.

Photo by @haleyvaughnphoto
Coastal Vibe Beach Family Photo Outfits
If you're planning a photoshoot in a cooler coastal location, here are some outfit ideas to suit the weather and environment:
Layer a silk or satin slip dress with a knit cardigan for an elevated coastal vibe. Let your kids wear soft and light outfits, such as a blue and white striped tee, while you dress up in a classy neutral slip dress.
Embrace various shades of blue to enhance the coastal scenery. Dress the parents in blue tones that match the water, while letting your little ones stand out in white.
Incorporate pastel green tones into your clothing to make beach foliage pop. Sage and olive green outfits create a fresh and natural look that complements the beach surroundings.

Photo by @veronicacostaweddings
Casual and Candid Beach Family Photo Outfits
If you prefer a simple and fuss-free look for your beach family photoshoot, consider these clothing ideas:
For a casual and candid feel, go for rolled-up jeans and t-shirts. This effortless look is perfect for young families who want to capture the joy of frolicking on the beach.
Opt for matching blue tees and light-wash denim for an effortlessly chic family beach portrait. Coordinate your children's outfits with a similar blue theme to create a cohesive and stylish look.
Create a nautical-inspired beach family photoshoot by dressing a mother and her daughter in ivory knit sweaters. Pairing them with white denim and adding a neutral baseball cap maintains a casual yet adorable overall aesthetic.
If you prefer a more diverse color palette, try mixing and matching earth tones in different shades and hues. This creates a calming and harmonious look that complements natural elements like rocks and water.

Photo by @yoliandotis
Style Tips for Your Beach Family Photoshoot
Here are some final tips to help you choose the perfect outfits for a memorable beach family photoshoot:
Opt for airy, neutral, and comfortable clothing items with a coastal feel.
Stick to mostly solid colors and add small pops of pattern for visual interest.
Choose outfits that do not distract from your family or the beautiful beach scenery.
Avoid bold or busy patterns that can be visually overwhelming in photographs.
We hope these ideas have inspired you and answered the question, "What should my family wear for a beach photoshoot?" With these outfit suggestions and our color palette ideas, your family will look amazing and create beautiful keepsake memories at the beach!
Remember to visit Ambassadeur Hotel for more information on planning your next beach vacation.
More Family Photoshoot Ideas You'll Love: